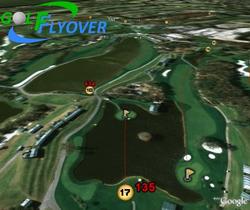 We help golfers visit their choice of golf courses by allowing them to virtually fly over the course and see the course's layout map before getting there
Millersville, MD (PRWEB) February 21, 2008
GolfFlyover, LLC is pleased to announce the launch of its website, http://www.GolfFlyover.com. GolfFlyover.com provides over 5,000 golf course flyovers and layout maps across the United States using Google Earth™ and Google Maps™, giving golfers an extra edge to their game.
How does the avid golfer select among the thousands of golf courses to play the next round of golf? By visiting the Top Golf Destinations web page to check out what Myrtle Beach has to offer, or going directly to Augusta National Golf Club page to see the course of champions, golfers can determine what courses to play. Golfers can search for courses using the course name, by city and state or with a zip code.
"We help golfers visit their choice of golf courses by allowing them to virtually fly over the course and see the course's layout map before getting there," said Robert Nelsen, GolfFlyover's CEO. From tee to green, the company's golf course flyovers gives visitors an in-depth look from hole one to 18 showing them the distance and layout of the course so they can plan their shots before stepping foot on the greens. All course information is provided free of charge with no membership needed to view the courses. However, to properly visit the courses on GolfFlyover.com, Google Earth™ (earth.google.com/index.html) must be downloaded and installed.
GolfFlyover.com also enables golfers to request course flyovers that may not be available at the moment, along with signing up for e-mail alerts when new courses are added to the site.
GolfFlyover, LLC and its partner V-Empower, Inc are producing hundreds of new golf course flyovers every week. With a large team of designers, the company anticipates completing all 18,000 U.S. golf courses this year. GolfFlyover.com next plans to create international golf course flyovers.
About GolfFlyover, LLC:
GolfFlyover, LLC, located in Millersville, Maryland, is proud to introduce golf course flyovers and layout maps in the United States and, in the near future, around the world. GolfFlyover.com is a free service with no membership requirements or signups to view golf course flyovers and layout maps. For more information, visit http://www.GolfFlyover.com.
Contact:
Robert, Chief Executive Officer (CEO)
GolfFlyover, LLC
(866) 676-4091
###