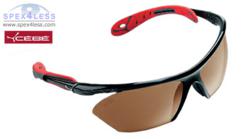 Wirral, Merseyside (PRWEB UK) 20 June 2011
Spex4less is better known for the retail of prescription glasses and spectacles online.
However, the online glasses retail outlet also specialises in protective and sports eyewear and has recently launched a new range of prescription eyewear specifically designed for golfers who require corrective lenses.
Golfers who require corrective eyewear can often struggle to find a solution for the golf course as many prescription golf sunglasses have no ability to be fitted with corrective lenses and those that do tend to be less attractive to say the least.
The Spex4less golf glasses range includes new wrap style models from Cebe which have interchangeable front lenses for the varying light conditions on the golf course. These frames also have what is known as an RX insert which holds prescription lenses made to the customers spectacle prescription and can be clipped in and out of the main frame. This system is especially handy for those golfers who occasionally wear contact lenses.
Spex4less has already received great feedback from thankful golfers who now have crystal clear vision on the golf course whilst looking super cool in the slick new wrap styles available.
For more information on golf glasses visit the spex4less website at http://www.spex4less.com.
# # #