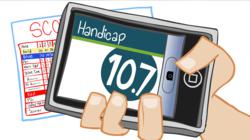 TheGrint has become a relevant player in the Golf Handicap Industry
Miami, FL (PRWEB) January 23, 2013
TheGrint golf handicap tracker has been in development since 2011. However, it was not until May 2012 that the product was out in the market. The initial launch was slow and with the aim of gathering a few users that will provide the team with enough feedback to continue to refine the product. It kept a contained user base of 200 until 2 months later when it was open to everyone else.
Eight months after its launch, TheGrint has become a lot more relevant in the online golf handicap industry. The brand awareness and its coolness factor drives most of the growth, that comes from online advertising but mostly from recommendations of members.
The challenge for TheGrint is how to obtain a premium position in the market without losing its small-cool-startup-pioneers factor which a lot of its member base appreciates. One of the key factors to do that is to maintain the level of service that is provided through the golf Scorecard Picture Service, which allows members to take a picture of their scorecard at the end of their round send it to TheGrint and it will be uploaded for them. Quick and easy.
2013 is a critical year for TheGrint to become a relevant player in the golf industry. Contact us at info(at)thegrint(dot)com for any information or interviews.