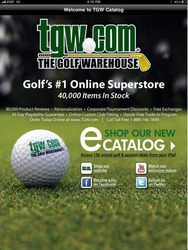 We are constantly adapting to new technologies in the game of golf and on the Internet. We believe in transforming while performing
Wichita, KS (Vocus) June 16, 2010
TGW.com The Golf Warehouse®, golf's top online retailer, is pleased to announce the recent launch of its iPad application, which provides golfers with easy and mobile access to the premier Online Golf Superstore: TGW.com.
Just on the heels of the brand's recent iPhone application debut, TGW realized that the iPad was yet another innovative communications opportunity to better serve its millions of loyal customers with the best and most exciting new golf equipment and product offerings. As a result, the new TGW iPad app has been met with resounding success. Customers can experience and enjoy the visual richness of a true catalog combined with the ability to browse ("flip through pages") and buy TGW products anytime, anywhere—even on the golf course!
A mere click or two grants customers access to content rich product pages on TGW.com packed with insightful reviews, photos, streaming videos and a seamlessly connected ordering process that keeps things simple and fast. As new golf catalogs become available, the application's technology will update automatically and continue to provide customers with the best quality and most up-to-date golf product information and offerings.
"We are constantly adapting to new technologies in the game of golf and on the Internet. We believe in transforming while performing," said Brad Wolansky, CEO of The Golf Warehouse. "This iPad application is helping TGW reach its goal of remaining at the top of the golf industry in terms of technological adeptness, and our customers are showing us that this is a step in the right direction."
Just shortly after launch, the TGW iPad app is now being enjoyed by more than 250 iPad users.
The new application is available for users to download from Apple's iTunes or the App Store on the iPad. Simply enter search terms "TGW" or "The Golf Warehouse," download, and in seconds gain access to the boundless amounts of golf related products and information that TGW has waiting just for you.
About Redcats USA
Redcats USA is a dynamic, multi-channel, web-driven home-shopping leader, with numerous well-known brands in its portfolio: AVENUE®, Woman Within®, Jessica London®, Roaman's®, KingSize®, BrylaneHome® and BrylaneHome® Kitchen sold on OneStopPlus.com®, The Sportsman's Guide® and The Golf Warehouse™. Redcats USA offers a wide range of value and quality driven merchandise categories, including men's and women's plus-size apparel, home and lifestyle products, and sporting goods/outdoor gear. Redcats USA is a Redcats company.
About Redcats
Standing at the forefront of fashion, design and e-commerce, Redcats brings together 15 brands in home shopping: Avenue®, Woman Within®, Jessica London®, Roaman's®, KingSize®, BrylaneHome®, OneStopPlus.com®, The Sportsman's Guide®, The Golf Warehouse™, La Redoute, Vertbaudet, Cyrillus, Somewhere, Daxon and Ellos, present in 30 countries. Redcats generated 3.386 billion euros of sales in 2009, including 47% on Internet and employs approximately 16,000 associates. Redcats distribution network combines e-commerce web sites (more than 60) catalogues and stores (more than 600). Redcats is a PPR Company. For any further information: http://www.redcats.com.
Contact Information
Karen Davis
Corporate PR & Communications
Redcats USA
Karen(dot)davis(at)redcatsusa(dot)com
212-502-9315
###