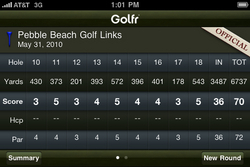 Whether keeping score or looking for a new golf course to play, Golfr is incredibly useful to any golfer who carries an iPhone or iPod touch
Seattle, WA (Vocus) June 2, 2010
Ubermind, leading developer of iPad, iPhone and Android applications, celebrates the release of Golfr, a free, powerful golf app for the iPhone and iPod Touch. Golfr's most notable new features are its scorecard and ability for users to review their stats.
"Whether keeping score or looking for a new golf course to play, Golfr is incredibly useful to any golfer who carries an iPhone or iPod touch," said Ubermind CEO Shehryar Khan. "Golfr's beauty and simplicity are unmatched by any paid or free golf app."
Golf apps currently available for the iPhone or iPod represent some of the most expensive apps, many of which carry a price tag of $9.99 or greater. Breaking away from this paradigm, Golfr offers many features of other paid golf applications, including:
Scorecard:

Rotate iPhone to landscape to see "Scorecard" view
Slide finger up or down to easily adjust score
Works for 9- and 18-hole courses
Saves all rounds played by user
Personalized Summary & Stats:
Stats for a specific course or all courses played by user
Stats by hole type – par 3, par 4, or par 5
Track number of birdies, eagles, bogies, and double bogies
Automatically created from saved scorecards
In addition, Golfr includes a special promotions tool called "Offers," which allows golf courses to create special offers for golfers and distribute through Golfr at no cost to the course or golfers.
Offers:
Free service allowing courses to create promotions exclusively for Golfr users
Courses using Offers show up first in user searches
Free service to both courses and users
Courses simply email support@golfrapp.com to create a promotion
Golfr by Ubermind leverages the developers user interface design expertise and experience building a significant portfolio of mobile apps including the award-winning MasterCard Priceless Picks, Twilight Tracker (Twilight Film Saga), Best Camera, TweetDeck for iPad, InHouse (House M.D., and the Knicks: T-Mobile Live for Android. Ubermind is confident that golfers will immediately see the design superiority of Golfr when compared to other expensive, as well as free, golf apps for iPhone and iPod touch.
Golfr for iPhone or iPod touch is free to download on the App Store. Visit GolfrApp.com to learn more about Golfr.
About Ubermind:
Ubermind, Inc. is a full-service software engineering firm and leading app developer for the iPad, iPhone, and Android platforms. With over a decade of experience working on large mission-critical enterprise systems, Ubermind is uniquely equipped to handle all stages of large mobile app and web development projects completely in-house. For additional information regarding Ubermind, please visit ubermind.com.
###