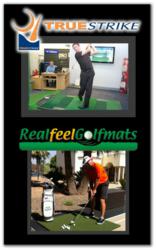 These mats are definitely winners and a great addition to spring golf practice
Lafayette, Colorado (PRWEB) April 29, 2013
Sports Entertainment Specialists, Inc. (SES) is excited to announce the addition of two golf mat options to their growing line of verified and approved golf training aids. The products accurately mimic realistic playing conditions, and offer overwhelming improvement over traditional practice mats. "You will see and feel the difference the first time you hit a ball on these mats. Experiencing a true 'fat shot' sensation is critical to getting the right feedback for good practice," commented Todd Mallon, President of SES.
The advanced technology in the TrueStrike™ Golf Hitting Mats cause the ball to react as if being hit off real grass, allowing golfers to have a more realistic golfing experience. Utilizing a proprietary gel-filled subsurface, the club drives through the impact just like on the fairway. This brings an advanced realism to the practice session, especially with irons and wedges, improving technique and protecting clubs from damage.
The Country Club Elite Golf Mats™ proprietary turf design absorbs the blow of the shot simulating the feel of taking a divot as well as the consequences of hitting it heavy. "This is the first time on a practice mat I've experienced the results of a chunked shot. I was able to make the necessary adjustments before hitting the course," stated Jason Trupp, Sales Manager at SES. The Country Club Elite™ mats are ideal for golf simulators or even a practice session in the backyard.
Both golf mat options are highly versatile and perfect for residential or commercial applications. The high-end commercial grade designs are built to withstand the punishment of repeated use without damaging clubs. Commonly used for golf simulator systems and commercial driving ranges they are portable enough to be used at home, corporate events or trade shows. "Our goal is to find the best in quality and value for our customers. These mats are definitely winners and a great addition to spring golf practice," concluded Todd Mallon.
About SES - Sports Entertainment Specialists, Inc.
SES is an award winning expert in the sports simulation and golf training industry. Their mission is to provide unbiased recommendations and continually offer the right solution for their clients. They focus on choosing the perfect manufacturers to provide a combination of products to best suit client needs. SES offers the most easy to use, cutting edge, indoor golf simulators, virtual multi-sports systems, hunting and shooting simulators as well as golf practice aids and putting greens.
For more information visit: http://www.sportsentertainmentspecialists.com