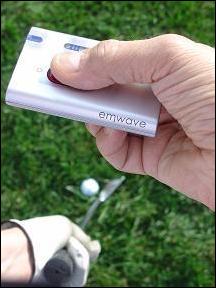 Almost all golfers get in their own way emotionally. HeartMath shows them exactly how different emotions affect performance, and most importantly, gives them the tools to change a destructive emotion to a productive emotion right on the spot.
Boulder Creek, CA (PRWEB) April 12, 2007
The mental side of golf has always been accredited as a significant factor but new research shows that our emotional beliefs and attitudes drive our mental game. You can think positive thoughts – ''I will make this shot'' – but your emotions aren't necessarily buying it. You still have a sinking feeling of ''I can't do this, I missed it last time'' undermining your commitment to the shot. Known for their research on how emotions affect performance, HeartMath® (http://www.heartmath.com) says the emotional side of the game is equally if not more critical than the mental side. In the May issue of Golf Digest, HeartMath's research and emWave Personal Stress Reliever® (PSR) (http://www.emwave.com) technology are featured as innovations that are changing the game of golf (http://www.golfdigest.com/features/index.ssf?/features/gd200705heart.html).
Through 16 years of rigorous scientific research, HeartMath has defined the inner mechanics of how stress affects performance and how emotions can either work against us, as traditionally thought in sports, or work for us as an essential element for getting into a high performance state.
Laird Small, Director of the Pebble Beach Golf Academy and 2003 National PGA Teacher of the Year, told Golf Digest: "Almost all golfers get in their own way emotionally. HeartMath shows them exactly how different emotions affect performance, and most importantly, gives them the tools to change a destructive emotion to a productive emotion right on the spot."
HeartMath's research has resulted in a system of programs, techniques, and technologies that teach you to change your nervous system's response to stress so you can release it as it arises. Their new handheld emWave Personal Stress Reliever essentially mirrors your emotional state by reading your heart rhythms and provides real-time feedback (http://www.emwave.com/how_emwave_coherence.html). Negative emotions like anxiety, fear, or frustration produce jagged heart rhythms that are destructive to your game. Positive emotions like appreciation or your love of golf produce smooth coherent heart rhythms, which HeartMath's research has shown facilitates peak performance. With emWave PSR you learn to refocus your emotions and balance your emotional physiology to not only improve your golf game, but to benefit your performance at work and in everyday life as well.
Golf instructors Lynn Marriott and Pia Nilsson have taught HeartMath for nearly a decade at their Vision54 schools in Phoenix, AZ. In the recent Golf Digest article Lynn said, "As people get direct feedback, they learn to work these machines (emWave PSR) like a video game toward a goal. With practice you can control the state you're in."
With emWave Personal Stress Reliever you learn to sustain a high performance state and develop skill in creating this calm yet dynamic internal state at will. emWave PSR prepares a golfer for activities that require concentration and motor coordination, and provides instant feedback to stabilize emotions and balance the autonomic nervous system. emWave PSR is used by PGA coaches and professional golfers to prevent performance anxiety and maximize emotional calm and mental focus during competition.
Ian Woosnam, 2006 European Ryder Cup Team Captain and 1991 Masters Winner, has been using emWave PSR along with HeartMath stress-reduction techniques (http://www.heartmath.com/company/proom/articles/woosnam_secret_to_winning.pdf). Woosnam says, "Using the emWave Personal Stress Reliever enabled me to recognize the effects of stress on my body at any given time. My recent tournament performances were helped by the use of HeartMath. It amazed me. I wish I'd known about HeartMath earlier in my career."
Performance psychologist and HeartMath spokesperson Dr. Deborah Rozman says, "People have been trained to strengthen the mind and mental focus in order to be successful. But the mind doesn't manage the emotions. Emotions are more powerful than the intellect. HeartMath gives you tools to put you in control so your emotions aren't controlling you. You can slow down your emotional response – like fear, anxiety, or frustration – and choose to change it right in the moment. emWave Personal Stress Reliever helps you to be your own best 'emotion coach.'"
HeartMath®
HeartMath LLC (http://www.heartmath.com), a wholly-owned subsidiary of Quantum Intech, is a cutting-edge performance company providing a range of services, products, and technologies to improve health and well-being, while dramatically reducing stress and boosting performance and productivity. HeartMath clinical studies have demonstrated the critical link between emotions, heart function, and cognitive performance. HeartMath's solutions for stress relief have been published in numerous peer-reviewed journals including American Journal of Cardiology, Stress Medicine, Preventive Cardiology, Journal of the American College of Cardiology, Integrative Physiological and Behavioral Science and Alternative Therapies in Health and Medicine. HeartMath's organizational clients include NASA, BP, Duke University Health System, Kaiser Permanente, Stanford Business School, Unilever, and Cisco Systems, as well as dozens of school systems and thousands of health professionals in the US, Australia, and Europe.
Media contact:
Gabriella "Gaby" Boehmer
(831) 338-8710
###