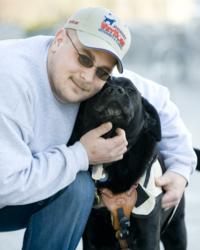 I couldn't do it without him.
Smithtown, NY (PRWEB) August 11, 2012
Help disabled veterans return to a life of dignity and independence … thanks to a service dog from America's VetDogs®.
America's VetDogs will hold its third annual golf outing on August 27, 2012, at the Huntington Country Club, Huntington, NY, to support disabled veterans on their journey back to the lives they once led. Registration information can be found at America's VetDogs Golf Classic.
To date, more than 50,000 service members have been wounded in combat in Iraq and Afghanistan; of these, 16,000 are classified as "catastrophic," which means they have lost one or more limbs. In addition, thousands have suffered traumatic brain injuries and post-traumatic stress syndrome.
While combat operations in Iraq have ended, those in Afghanistan continue, and the need for special service dogs for disabled veterans will grow as these brave young men and women age.
Sergeant Tony Larson will be one of the featured speakers at the awards dinner. Larson spent 18 months in rehab after suffering injuries in Iraq in 2005, including the loss of his right leg below the knee, mild traumatic brain injury, and post-traumatic stress disorder. He was partnered with service dog Tomme in 2007. In the five years since they became a team, Tomme is an integral part of Larson's life.
"I couldn't do it without him," Larson says. "Tomme has been by my side helping me overcome barriers."
The demand for service dogs far exceeds VetDogs' current resources. The cost of one service dog for a disabled veteran is in excess of $50,000, which includes everything from birth to training to placement and a lifetime of aftercare support. There is never a charge to the veteran for his assistance dog and training.
Army veteran Sgt. Kent Phyfe will also be a special guest speaker. Phyfe was a career soldier until his medical retirement in 1996. He received his service dog in September 2011.
The 2011 golf classic raised nearly $130,000 to support disabled veterans. This year, organizers hope to exceed that amount.
VetDogs is honored to have Daniel Rodriguez, known as "The Singing Policeman" and "America's Beloved Tenor," perform the National Anthem at the start of the event.
About America's VetDogs® – the Veteran's K-9 Corps®
America's VetDogs provides guide and service dogs to disabled veterans and active duty personnel; physical and occupational therapy dogs for VA and military hospitals; and combat stress control dogs to be deployed overseas. It is the premier provider of assistance dogs for disabled veterans and the military.
America's VetDogs began as a project of the Guide Dog Foundation for the Blind to expand its programs and services for veterans, and became an independent 501(c)(3) not-for-profit organization in 2005.
The VetDogs team includes certified instructors, veterinarians, and physical and occupational therapists who work with disabled veterans. Together, they develop innovative training methods that continue to evolve and deliver groundbreaking service to America's wounded warriors.
America's VetDogs' mission is supported by the generosity of individuals, corporations, foundations, service organizations, and schools. Its branding and licensing program represents an exciting new facet to its fundraising efforts to help America's disabled heroes.
Contact:
Bill Krol, Communications Manager
America's VetDogs
631-930-9034
631-780-2457 (cell)
bill(at)vetdogs(dot)org