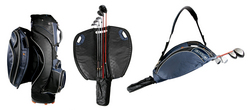 mode. In any form, the bag also provides storage for valuables, umbrella, balls, and towels. The
Bluffdale, Utah (Vocus) December 16, 2008
OGIO has just released its contribution to the current economic crisis: a three-in-one golf bag that works as a competition-level cart bag, a lightweight caddy bag, and a superlight carry bag, all in one. The new Devolver golf bag is a full-featured bag that adapts to the course and the game, providing golfers with three functional-use solutions, for the price of just one standard cart bag.
A bag designed as only OGIO can, the Devolver works like a full-featured cart bag, offering signature components including a 10" Uniter 15-club top, as well as a custom ergonomic three-point carry handle. Its removable, oversized accessory pocket wraps around the bag to provide ample storage, but magnetically converts into an ultra lightweight carry bag when separated from its main compartment. As a stand-alone carry bag, an extending flap hidden in its base unzips to reveal grip protection, while conversion is completed with the attachment of the base bag's carry strap.
Once its outer pocket is removed, the "stripped down" bag that remains is anything but. In fact, the Devolver in its unadorned form still stands a full 36.5" high and delivers additional storage through four remaining pockets, plus accommodates easy carrying through an integrated Lift Grip trunk handle. The bag's hidden styling reveals fashionable lines and attention to aesthetics, enabling users to proudly carry the bag in its lightweight "caddy" mode. In any form, the bag also provides storage for valuables, umbrella, balls, and towels. The "devolved" Devolver carries easily for walkers or caddies with the aid of a padded single strap that tucks away into a hidden strap sleeve.
The OGIO Devolver (MSRP: $320.00) is available in Black, Navy, and Red, and can be purchased through major golf specialty and sporting goods retailers nationwide, as well as through online resources. For more information about this or other bags from the company's 2009 golf lineup, check out this video or visit http://www.ogio.com .
Editor's Note: Samples of OGIO's Devolver Cart Bag are available on a limited basis. Please contact Kelly M. Mooney / This Just In PR & Marketing, at 503.722.4080 or kelly@tji-inc.com.
Contact:
Kelly M. Mooney
This Just In PR & Marketing
503.722.4080 or 801.450.1009
kelly@tji-inc.com
###