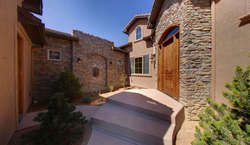 (Vocus) September 1, 2010
With 360 degree views of some the state's most magnificent natural wonders like the Colorado National Monument and the Grand Mesa, Redlands Mesa Golf Community is a gem of a golf course. The newest jewel to be unveiled at the premier golf community is the distinctive new Golfer's Dream Home constructed by local custom homebuilder Hinsdale Homes as part of a joint venture with Redlands Mesa Development. Ideally situated on one of the most scenic fairways, the residence exemplifies the concept of luxury with value. The home captures all of the opulence, amenities and design features typically found in multi-million dollar homes, but translated to a smaller square footage that maximizes value. This 2637 square foot property located at 332 Iron Horse Court in Grand Junction is listed at $799,000.
"The Golfer's Dream Home is a dream come true for golf aficionados. First and foremost, it is on the 9th Fairway with stunning views all around. Thoughtful details like a golf cart garage, superior finishes from ceiling to floor, and an affordable price make this residence a true treasure," said Bob Casey, Vice President of Brightstar Golf Group.
It all begins with a unique angled floor plan on a premier lot, designed with an abundance of large windows that maximize the spectacular views of the 9th Fairway and the Grand Mesa beyond. The home itself features three bedrooms, including a luxurious master suite with a travertine fireplace, a guest suite with a private patio, a gourmet kitchen with a breakfast nook, an office that could double as a fourth bedroom overlooking the entry courtyard, and an expansive great room with a dramatic wall of windows that captures the views. A large covered patio with an outdoor grilling island fitted with a JennAir gas grill and electrical outlets creates the ideal setting for outdoor entertaining or to simply enjoy the magnificent golf course setting.
Hinsdale Homes constructed the Golfer's Dream Home with meticulous attention to detail; this level of quality craftsmanship is found in only the finest homes. Elegance and architectural details are visible in every room: soaring 12 foot ceilings, elaborate woodwork, hand troweled walls, coffered ceilings, quality cabinetry, granite countertops, travertine, slate and hardwood floors, an integrated audio system and a separate golf cart garage. The home includes extensive professional landscaping designed for low maintenance, a full sprinkler system and a natural stone terrace overlooking the golf course.
The home is listed for sale by the Hampton and Huckaby Team at Bray Real Estate http://www.hamptonandhuckaby.com. Glimpse the property online at http://www.redlandsmesa.com/club/scripts/library/view_document.asp?GRP=9807&NS=PRE&APP=80&DN=DREAM and at http://www.redlandsmesa.com/club/scripts/ImageAlbum/view_albums.asp?GRP=9804&NS=PUBLIC&SRC=&AID=13244&page=8.To arrange a private showing of the Golfer's Dream Home, please contact the Redlands Mesa Sales Office at 970-255-7400.
Hinsdale Homes has been building unique custom homes for over 15 years in five cities on the Western Slope of Colorado. Hinsdale's President, Nick Arend, has a unique dual professional background, in both home building and corporate management, having been Executive Vice President of Trammell Crow Corporation, one of the country's largest real estate development firms. Hinsdale Homes specializes in designing site-specific luxury homes known for their architectural details, open floor plans, and designs that maximize the views and beauty of a chosen lot.
About Redlands Mesa Golf Community
Redlands Mesa Golf Club is a nationally recognized award-winning golf course and premier golfing community located in Grand Junction, Colorado. Both the golf course and its surrounding residential community are masterfully designed to take advantage of the majestic landscape with minimal disturbance to the native terrain. Redlands Mesa offers a variety of affordable premier home sites, all with breathtaking views in an unique outdoor setting with easy access to downtown Grand Junction. Other amenities include a spectacular golf course with a two story club house featuring a pro shop, private club rooms, the Red Canyon Grille, swimming pool, and an ongoing social calendar of events. It is the ideal fit for adults and families seeking a healthy, active lifestyle in a tranquil, safe community set amid a backdrop of unparalleled beauty. Redlands Mesa Golf Community is also the recipient of numerous awards some of which include Sports Illustrated, The Robb Report, Golf Digest, Golfweek, Links, Golf for Women, Travel and Leisure, Fairway Living, Golf Magazine, and Colorado Avid Golfer.
Redlands Mesa Golf Community
2299 West Ridges Blvd.
Grand Junction, CO 81507
http://www.redlandsmesa.com
Media Contacts:
Bob Casey, Vice President
BrightStar Golf Group
2173 Salk Avenue, Suite 145
Carlsbad, CA 92008
760-929-9968
bcasey(at)brightstargolf(dot)com
Golf Contact:
Eric Feely, General Manager/Head Golf Pro
970-263-9270
eric(at)redlandsmesa(dot)com
Hinsdale Homes Contact:
Nick Arend, Hinsdale Homes President
970-255-7400
nicka(at)tds(dot)net
###