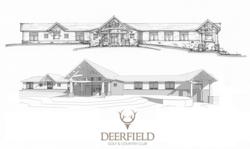 Well designed timber frame structures with good vernacular will give new identity to the existing clubhouses
Farmington, NY (PRWEB) May 30, 2013
New Energy Works Timberframers are raising new timber frame additions, exterior timber elements, and interior timber accents on Deerfield Golf & Country Club and Harvest Hill, Public Golf & Recreation, in New York. The updates and additions to the clubs will offer expansive fairway views, gathering spaces, and welcoming entries.
"Deerfield is an intricate renovation of existing spaces with a few new additions," comments Ty Allen, Design Manager of New Energy Works. "Club members at both locations are excited and we're pleased to have had an enthusiastic audience during our raisings."
The new timber frame pavilion and banquet area was raised for Harvest Hill in April. It will be connected to the existing clubhouse structure via a Western Red Cedar pergola that will be raised this month. Harvest Hill will have additional expansion of existing spaces each with panoramic views.
At Deerfield, the design plans include timber frame entries, and timber trusses to be incorporated to the renovation of the original reception area. New timber porches will create a bridge to the outdoors with plentiful fairway views.
"In every project it is important to consider how a building receives people, welcomes people. The transitional spaces, bringing the outdoors in, or moving folks from space to space, are best served when they have elements with substance and a feeling of elegance. Timber framing fulfills these needs with its flexibility in design and warmth of material," continues Allen.
Previously New Energy Works brought timber framing to other New York clubhouses including Mill Creek Golf Club and Bristol Harbour Resort. In each project the detailing, thoughtful proportions, and handcrafted finishing were used to create a relationship from the interior environment to the course. The elements allow members to experience the course outside and from within the club.
"Well designed timber frame structures with good vernacular will give new identity to the existing clubhouses much as the craft has to our past projects," explains Allen.
Harvest Hill will unveil their new timber framing fascia and pavilion to the public in late 2013. Deerfield's extensive renovation will be ready for members to enjoy in Spring of 2014.
The pavilion and clubhouse entries for Harvest Hill Golf Course were designed in partnership with Charles Gordon Architecture, Conway & Co Architects, and Lehigh Construction Group.
New Energy Works Timberframers have been designing and building environmentally responsible timber frames across the USA for nearly 30 years from their facilities in New York and Oregon. Offerings include: Timber Framing (design, engineering, manufacturing, build), Enclosure Systems, Fine Woodworking, Recycled and Sustainable wood products. New Energy Works has two LEED AP staff members, is a member of the US Green Building Council and is FSC Certified.