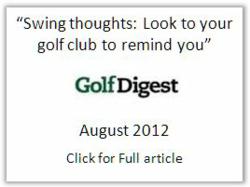 This is a great gift for golfers that is affordable, easy to ship or include with a holiday card. Golfers will be eternally grateful for a gift that can help improve their swing and enjoyment of golf
Sherman Oaks, CA (PRWEB) November 27, 2012
Recreational golfers often have more swing thoughts in their head than their mind can handle to successfully execute a golf swing. 1SwingThought.com's reminder appliqués are designed to help golfers focus on one swing thought at a time. The idea is that after internalizing one swing thought, the golfer can focus on incorporating another, and another, while continually improving their play.
In time for the holiday season, 1SwingThought.com is offering discounted bundled offerings to help golfer attain popular goals (breaking 90, adding distance, curing a slice etc.). Each bundle includes three sets of the most popular swing thought appliqués for accomplishing the particular goal. Normally it would cost $20.97 for three separate sets of swing thought appliqués, but golfers can buy a bundle for $16.49 (a 21% discount). Additionally, each bundle purchased on their website includes the "30 day guarantee -play better golf or don't pay."
1SwingThought.com CEO Bryon K. Smith says, "This is a great gift for golfers that is affordable, easy to ship or include with a holiday card. Golfers will be eternally grateful for a gift that can help improve their swing and enjoyment of golf."
The six bundles featured for the holiday season are:

Cure a Slice
Increase Accuracy
Additionally, 1SwingThought.com provides a gift certificate option to enable the recipient to select the bundle that is right for them.
About 1SwingThought.com
A BILMBA Marketing & Associates owned and operated site with a patent pending line of golf lesson and swing thought stickers, located in Los Angeles CA. 1SwingThought.com sells high quality vinyl swing thought and image appliqués, developed with golfers and professional golf teachers, that are water resistant, sun resistant, removable and USGA compliant.
http://www.1Swingthought.com
Contact: Bryon K. Smith
818.275.1114