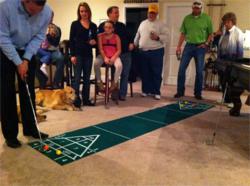 Dads are going to love getting this new golf gift because it really helps their golf game.
Canonsburg, PA (Vocus/PRWEB) April 07, 2011
Putter Around The House is a hole-in-one in 2011 as the perfect Father's Day golf gift. A golf training aid originally geared toward pros, the addicting family night game is the follow-up hit from the inventor of the newly released Tailgate Golf, a combo chipping golf game of cornhole and ladder ball golf. For a limited time, both games can be purchased together with an introductory offer on the website http://www.PutterAroundTheHouse.com.
America loves games and folks are lining up to purchase these exciting new golf games. The Putter Around The House and Tailgate Golf combo is a can't miss combination for backyard gamers and golfers alike. The product can be taken to parties, used on family game night, or used as a golf training aid to develop better feel and touch on the golf greens.
Putter Around The House got its start years ago by a golfer in New Jersey. Most friends and relatives of avid golfers can relate to watching them constantly practicing their putting skills in the house. This is exactly the story here when the invention idea popped into his head about combining shuffleboard with golf. When friends played the original prototype, the consensus was that this product would sell great as a Father's Day golf gift and as a golf training aid.
After constructing some prototypes, testing them, and then taking them around to a few local driving ranges and pro shops for feedback, the product was ready… or so he thought. Even though the product had built up demand, the inventor learned quickly that there is much more to product development than simply coming up with a great new golf gift that people want to buy.
That is when he turned to Montgomery IP Associates to help get his golf gift invention off the ground. It is through their related companies that Putter Around The House got its patent, finished product, and marketing strategy.
"It's no wonder it's been such a runaway hit with golfers and families—it's a great value and very addicting!" explains Garvin Putt, Product Development Director at Montgomery IP Associates. "Dads are going to love getting this new golf gift because it really helps their golf game."
About Montgomery IP Associates:
Montgomery IP Associates mission is to provide coordinated, professional services for inventors to help launch their new products onto the market through their family of companies: InventSAI, Ad-Gen, and Montgomery Patent and Design.
###