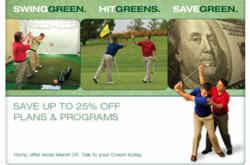 "Our success lies in our approach to golf instruction, by using experienced PGA coaches and incorporating GolfTEC's philosophy that with sound technique, properly fitted equipment and mental conditioning, you'll play your best game", said owner P. Crombie
Rockville, MD (Vocus/PRWEB) March 02, 2011
Come experience the new 2011 product launches by major manufacturers such as TaylorMade, Callaway, Mizuno and Cobra at GolfTEC North Bethesda.
GolfTEC North Bethesda Amenities
Golf Instruction, Personal Club Fitting, Golf Fitness, 3 Practice Bays, open since 2010 and much more.
All GolfTEC North Bethesda Clients begin with one of GolfTEC's Performance Evaluations. These sessions provide golfers with insight needed to improve their golf game. By getting a fact-based diagnosis of their swing, a certified GolfTEC Coach will be able to put together a gameplan specifically tailored to their current swing.
For the month of March, GolfTEC North Bethesda Improvement Center in Maryland is offering a Free 30 minute Golf Swing Evaluation with this press release. Book your Free Swing Evaluation Session today by calling the store at 240-715-0291, option 3, mention this release.
Limited Time Offer Restrictions
Redeemable at GolfTEC North Bethesda Only
Cannot be used in combination with any other offers
Limited 1 offer per customer
Appointment required
Expires March 31st 2011
Mention this release
GolfTEC North Bethesda March Schedule (must sign up by calling the center at 240-715-0291):
March 5th - Saturday 3:30 p.m. to 5 p.m. - Executive Women's Golf Association (EWGA) Clinic - How to get more out of your driver
March 16th - Wednesday 6 p.m. to 8 p.m. - World Amateur "How Green is your Swing Event"
Below are the Golf demo nights offered in March:
March 17th - Thursday 4 p.m. to 8 p.m. - Cobra
March 22nd - Tuesday 4 p.m. to 8 p.m. - Minuzo
March 24th - Thursday 4 p.m. to 8 p.m. - TaylorMade
March 30th - Wednesday 4 p.m. to 8 p.m. - Callaway
GolfTEC North Bethesda 2011 Merchandise Highlights
There's a lot to look forward to as 2011 clubs hit the shelves. Here are the six clubs to look for in 2011 that made Golf Digest's HOT LIST and received the Gold medal rating.
1. Callaway Diablo Octane/Octane Tour Driver — The club head weighs just 195 grams thanks to a lightweight carbon-fiber crown. Despite the lighter weight, the head still has a low center of gravity (CG) and the off-center hit stability of heavier heads.
2. TaylorMade R11 Driver — New technology! White non-glare crown and black clubface is a new look for 2011. The moveable weights of the original r7 and the adjustable hosel of the R9 are joined by a rotating soleplate that independently changes the driver's face angle for 48 possible settings.
3. Mizuno JPX PRO Irons — 4-7 irons utilize their largest COR construction in a one-piece forged iron. A thinned face raises ball speed for max distance. 8-PW utilizes deep pocket cavity design for maximum forgiveness and increased accuracy.
4. Ping Anser Irons — Forged multi-material head. Carbon steel body, tungsten sole and hollow sole cavity all help in positioning CG for high launching shots.
5. TaylorMade Burner 2.0 Irons — New technology and new look! Every new Burner 2.0 iron has been engineered to be long. The face is thinner to increase ball speed and distance.
6. Cobra S3 Driver — New E9 technology allows for more hot spots farther away from the center, creating more distance from the region of the club face where golfers hit the most often.
GolfTEC North Bethesda Golf Tip
Keeping a straight left arm in the back swing keeps your swing arc wide and helps the right elbow fold only to 90 degrees at the top of the back swing. In order to maintain a straight left arm during the back swing you want to create the feeling of the left hand stretching away from the shoulder in the back swing. At the top of the swing your left arm and the club shaft should create a 90 degree angle.
Come into GoltTEC North Bethesda and take advantage of our Proven Path to Proven Results
GolfTEC North Bethesda Golf Instruction
In order for golfers to improve their game and increase their consistency, it's essential to have a personalized improvement game plan. GolfTEC offers two great ways for clients to build on the instruction they received in their Performance Evaluation:
Improvement Plans: Our most comprehensive way to improve your game and help you achieve faster results. Improvement Plans include a Lesson Program, Personal Club Fitting, access to Video-based Practice, Game Tracking and great discounts on GolfTEC services.
Lesson Programs: For clients who want to focus on taking lessons with a Certified Personal Coach, GolfTEC offers a variety of Lesson Programs that range from 10 lessons to up to 52 lessons. GolfTEC North Bethesda Save up to 25 percent off lessons in March.
For all of our new clients, we get started by analyzing your game in a 30 minute Swing Evaluation Session.
Book your Free 30 minute Swing Evaluation Session at GolfTEC North Bethesda by completing the form in this link or call the store at 240-715-0291. With up to 25% off Lesson Programs and Plans, there's never been a better time to take advantage of our Proven Path to Proven Results.
GolfTEC North Bethesda Personal Club Fitting
Finding clubs that fit your swing speed and swing path will create better scoring opportunities in every round.
MYTH: Custom clubs are expensive.
TRUTH: Custom clubs are comparably priced to off-the-rack sets.
You can be confident that purchasing clubs from GolfTEC will ensure a great fit as well as a good deal.
Contact Us At
For more information about GolfTEC North Bethesda in Montgomery County Maryland, call 240-715-0291 or visit http://www.golftec.com/montgomerycounty
# # #