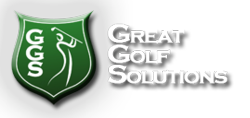 Denver, CO (PRWEB) May 26, 2012
Golf education leader, Great Golf Solutions, has launched an improved website that offers golf solutions in an easy to navigate format. Golfers everywhere will be able to improve their game with valuable information on chipping, how to avoid topping golf ball problems, and alignment techniques used by the professionals. The change is in response to feedback provided by users of the site and to make it easier for golfers to find the information that they are looking for.
Golf, which dates back to the middle ages and is believed to have originated in Scotland, is a popular sport throughout the world today. Many business meetings take place on a golf course and it is more important than ever to possess competent skills. With their redesigned website, Great Golf Solutions meets this need, helping people from all over the world access tips and advice that can help them excel on the golf course with a series of free golf solutions videos.
Julie Bartleson, a former PGA Golf Pro and Master Pro instructor at Great Golf Solutions, says: "I'm very excited about the change to our website. We recognized it needed some changes based on the feedback from our visitors and customers. This change will allow our visitors to be able to find useful information, like topping the golf ball, or about the great game of golf. Our new site will allow them to grow and enjoy the game that much more in 2012 and beyond. We have a number of new products planned for this year that will continue to enhance our position as a true leader in the golf education industry."
Golf students will find videos of success stories from other students, a free golf clinic offer, and advice from Ms. Bartleson and other golf professionals. Through the free video series Great Golf Solutions offers, students will be able to improve their grip, understand the importance of correct alignment, avoid topping golf ball issues, and learn new putting techniques. Furthermore, students can even communicate directly with instructors for personalized advice on how to improve their overall game.
Both men and women will benefit from the educational material provided by this team of golf professionals, improving their game and achieving their golfing goals in a relaxed and encouraging environment. For more information on the free golf series, please visit their website at http://www.greatgolfsolutions.com.
About Great Golf Solutions:
Great Golf Solutions is an educational company that offers golfers valuable advice and tips from professional golfers and instructors. To learn more about how they can assist you with your golf game, check out their website at http:http://www.greatgolfsolutions.com.