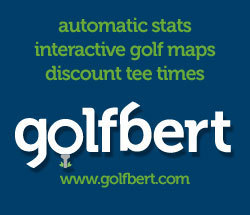 A Fun Place for Serious Golfers.
Brentwood, TN (PRWEB) October 29, 2009
Golfbert.com announced today the launch of its national course-mapping Sweepstakes with a grand prize of a Luxury Golf Vacation for four to Hilton Head. The vacation includes airfare for four from, four nights lodging for the foursome at the beautiful Palmetto Dunes resort, along with three rounds of golf, and as a bonus a one hour golf clinic for each. This golf sweepstakes also features weekly giveaways for $100 golf gift certificates.
To gain entries into the sweepstakes golfers simply log on to GolfBert.com and "map" their favorite courses. The Golfbert team has built a web tool that integrates with Google Maps to allow users to easily find and "map" their favorite courses. Golfers set points on an overhead view of the course to outline the fairways, greens, hazards, etc to create a hole by hole map. Mappers receive one entry into the sweepstakes for each point they map on any hole. Mappers can gain even more sweepstakes entries by referring their friends to Golfbert.
Golfbert has already mapped many courses to give users examples of what to expect. Follow this link to watch our video tutorial explaining how easy it is to map a hole: Golf Course Maps. These detailed hole maps will allow golfers to explore and compare various courses all from one website, but that is just the beginning of the benefits Golfbert plans to bring to the golfing community.
Mapping courses is phase one in Golfbert's plan of revolutionizing golf statistics. The maps will be integrated into Golfbert.com's soon to be launched social network and mobile apps, allowing users to interact and share information during their rounds by sharing their stats and equipment, leaving comments, posting photos and videos, and more. In addition to the social element, Golfbert will be able to analyze individual's games and patterns in order to offer personal golf equipment recommendations before, during, and after the round. Golfbert executive Jeremy Bolls said, "Our maps combined with the power of mobile technology will provide more insight into the game of golf than was ever thought possible."
Golfbert president Dave Lester says the site will be "A Fun Place for Serious Golfers." In fact, that phrase is the frontrunner to serve as the company's tagline. The rich social features extend to every single hole mapped on any course, creating tens of thousands of pages of user interaction and content. Golfers across the nation will share and compare their analytics in this competitive and fun learning environment. Golbert.com truly improves the way golfers of all skill levels learn, prepare, and play the game, and it is all free for the end user.
For more information on Golfbert and the Rules for the CaddyTracker sweepstakes visit http://golfbert.com.
###