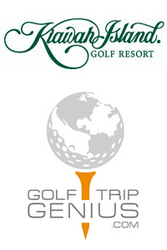 As the number one golf destination in America, we are dedicated to delivering the best possible golf trip experience to our guests. We believe GolfTripGenius represents a powerful way to help us further that goal
Kiawah Island, SC and Wayne, PA (PRWEB) June 28, 2010
Kiawah Island Golf Resort, one of America's most highly regarded stay-and-play golf destinations, and GolfTripGenius.com, an innovative web service for golf trip leaders, today announced an agreement aimed at providing Kiawah golf guests with personalized, high value golf trip services. Kiawah reservations and golf staff will introduce GolfTripGenius.com to incoming golf groups and offer to customize and implement trip services on behalf of the golf group captain and all members of the incoming group. These services can include customized pairings and tee sheets for each group, set-up and scoring of (multiple) daily tournament competitions, leaderboard results, logistical support, and more.
"As the number one golf destination in America, we are dedicated to delivering the best possible golf trip experience to our guests. We believe GolfTripGenius represents a powerful way to help us further that goal," commented Tom Bewley, Director of Sales and Marketing at Kiawah. "Kiawah's line-up of courses, including our fabled Ocean Course where the 2012 PGA Championship will be played, represents a truly world-class golf trip destination. Introducing golf groups to GolfTripGenius will greatly add to the golf experience here on the island."
With GolfTripGenius, "perfect pairings" are computed in seconds to produce optimized tee sheets for incoming golf groups. These groups can also play a wide variety of daily and multi-day "games," such as Best Two Balls versus the Field, Stablefords, Skins, a Ryder Cup format and more, with all tournament administration handled automatically. Other features include keeping track of trip expenses and other group activities, which at Kiawah might include Sanctuary Spa appointments or dining at one of the resort's nine restaurants.
"We're thrilled that one of the world's elite golf destinations has selected GolfTripGenius to enhance their service offering," said Mike Zisman, CEO and Founder of GolfTripGenius.com. "Kiawah is certainly a must-play destination for golf groups, and we look forward to serving Kiawah resort golfers for many years to come."
About Kiawah Island Golf Resort: Located along 10 miles of pristine beach just south of Charleston, SC, Kiawah Island Golf Resort includes The Sanctuary, 255-room hotel and spa, and close to 600 private villas and luxury homes, two tennis centers, five championship golf courses, including The Ocean Course – host of the 1991 Ryder Cup, the 2007 Senior PGA and 2012 PGA championships, nine restaurants, and features a world-renowned recreation and nature program. For more information on the resort, visit http://www.kiawahresort.com or call 800-654-2924.
About GolfTripGenius.com: GolfTripGenius.com was launched in 2010 to introduce a new category of innovative, web-based golf travel solutions to recreational golfers, resort and golf destination managers, and PGA of America professionals. Powering these solutions is the first-time use of operations research programming and advanced mathematical algorithms applied to commercial golf scheduling and tournament design problems. The resulting low cost, online products provide benefits that greatly enhance any golf trip experience.
###