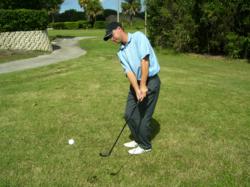 The Right Golf Wedge For Your Short Game
Nationwide (PRWEB) April 05, 2013
The configuration of these clubs significantly reduces chunking and eliminates shank shots--two big time game killers. Players can use this golf wedge for many types of shots from approaches, to lay-ups from the fairway, to sand bunker shots and more.
In golf a player can use up to 14 clubs and typically the more experienced player will have more then 1 golf wedge in their bag. Many new players and higher handicap players tend to overlook the necessity of the wedges for one reason or another.
The experienced golfers will carry many irons, hybrids, drivers to go the long distance. What these players know no matter how well their long game is going more than 60 percent of the game will be played from short distance. This is why they spend much time with their wedges. The Black Magic golf wedge has gone through a favorable golf wedge review from many pros throughout the country.
What is it about golf clubs in general that are so hard to hit with consistent results for many players. In order to produce a good golf swing it takes much practice and most players do not have time to practice at that extent. Manufacturers are consistently developing new technology from a driver to a golf wedge that can help golfers to have more fun on the course with hitting better shots. The Black Magic golf wedge helps eliminate problems. When we developed the Black Magic line of clubs, we looked at one golf wedge review after another in an attempt to find a common denominator. That would help players struggling to learn about golf clubs for the short game on an academic level so they would be better prepared when they hit the links. Our clubs address many short comings golfers have and put them more in control of the game," a company spokesperson stated, remarking on the development of the Black Magic line.
The short game is a difficult aspect of the game. Many Players have a natural tendency to over or under compensate when they use their wedge. Practically every part of the short game possesses a challenge which can tack on stroke after stroke. The Black Magic line of clubs is designed to be more forgiving. Traditional wedges require pinching the ball perfectly. The average golfer has a tendency to hit behind the ball and The Black Magic Wedges are designed to product great shots when mis-hitting a few inches behind the ball.
About
Blade Runner Golf, Inc. is a company that is very serious about the notion that a golfer's short game can make all the difference in his or her final score—and that players can take their short game to the next level if they only have the right club from which to choose. Black Magic's hybrid wedges Conforms to USGA Rules, but also helps golf enthusiasts find new precision and power as they make their way onto the putting green. Black Magic Wedge can be reached on the web at http://www.blackmagicwedge.com.
Contact:
Black Magic Wedge
2519 McMullen Booth Rd
Suite 510-129
Clearwater, FL 33761
Toll Free Phone: 877-799-6099
sales(at)blackmagicwedge(dot)com