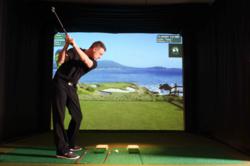 The Pros already know technology is the future of Golf, and we're one step ahead of everyone else by investing in Golf Technology now. Cliff Wise, President, Golf Analytics Fitness Inc.
Atlantic Highlands, NJ (PRWEB) July 11, 2011
Golf Analytics Fitness Inc. helps entrepreneurs launch high-tech Golf Centers by providing the know-how in the latest Golf Technology, as well investing in the new companies and facilitating financing, in addition to providing marketing and operational guidance.
When Cliff Wise, a passionate Golfer who spent his professional career in bulk shipping and oil cargo trading, wanted to start his own business, he decided to invest in his passion – Golf! He found that clubs, balls, shafts, etc., were all dominated by the big brand names and there was no investment opportunity there, unless he bought stock. Then he looked at Golf Technology, such as computerized golf swing analysis, high-tech simulators and found a tremendous opportunity there. Advanced technology allows players to improve their game in record time; after just a few training sessions tailored around their swing analysis results, players can greatly improve their score, which is every golfer's ultimate goal. It became obvious to Cliff there was a huge business opportunity in Golf Technology.
Widely used in training PGA professional golfers, Golf Technology is still a novelty among amateurs and recreational players. For most Golf Pros, advanced golf swing analysis technology means using a video camera to capture the golfer's swing, and then playing it back while providing recommendations for improvement.
The technology PGA tour players rely on for their training is much more sophisticated and this is what Cliff decided to make available to every golfer in the area. He incorporated Golf Analytics Fitness Inc., a state-of-the-art Golf Center in Atlantic Highlands, NJ, complete with a High Definition Championship Golf Simulator, the most advanced in the market today and is based on actual pictures of golf courses - the result is spectacular, you feel you're actually looking at the golf course and not a computer simulation. The Golf Simulator also has a module for golf club fitting. You can try various club heads and shafts to find the best fit for you. The company is on staff with Cleveland Golf and also fits Nike. The business uses the AMM TPI (Titleist Performance Institute) 3D 12-Sensor system and K-Vest to record every move the golfer makes from address through backswing, transition, impact and follow through. A separate system using the tiny AmmSensor is used for biofeedback. The business also uses the SAM PuttLab and the Zelocity Pure Launch monitor both inside and on the range.
Cliff's vision was to create a place not only where golfers could go to improve their game, but a place where they could relax. "I wanted this to be the third place for golfers, after home and work, where they come to unwind, hang out with their friends, watch a game on one of the flat screen TVs, play a round of golf on the simulator - they can even play against players in Ireland, Germany or Japan." The facility includes an executive meeting room and teleconference facilities; businessmen may choose to entertain their clients and close deals in a relaxed private setting. Sharing Cliff's vision is Director of Golf and Head Pro, Mark Lederman, "In this age of technology it's exciting that golf has finally caught up and now we can offer the latest and most advanced swing analysis to all golfers as well as creating the ideal year round Golf environment!", says Mark.
Following the success of his NJ Golf Center, Cliff decided to replicate this model; but rather than going for the typical golf franchise model, where the investor pays a fee to use the brand name and for the know-how, Cliff decided to offer investors the opportunity to own their own high tech golf center, while himself investing in a 25% ownership of each new center. In addition, Cliff and his team have created an investment vehicle for clubs and individual investors to finance and set-up a world class facility. "It's a win-win." says Cliff, "Personally investing in each new Golf Center, sends a clear message to investors that I have a vested interest to make the new business a success - as opposed to the Franchise model which is sometimes based on a straight fee and a small percentage of sales. I provide investors with a proven business model including all the know-how, which means they can see returns at a much faster rate than if they started such a venture on their own. Tiger Woods once said 'It's the equipment that's making the difference, and I don't mean clubs or balls, I mean videos and computers.' The Pros already know technology is the future of Golf, and we're one step ahead of everyone else by investing in Golf Technology now".
For more information on Golf Analytics Fitness, please call: 732-708-0550 or visit http://www.GolfAF.com. Cliff Wise can be reached at cliff(at)golfaf(dot)com.
About Golf Analytics Fitness:
Golf Analytics Fitness offers technology-based golf swing analysis and provides golf instruction tailored to YOUR needs as a golfer that guarantees to LOWER your score! We analyze your golf swing using the K-Vest and provide a computer generated analysis of your golf swing which includes a graphical presentation of your swing faults. We also provide a 12-point golf fitness evaluation using TPI guidelines. We also offer indoor golf using our golf simulator so you can play golf year-round regardless of weather conditions.
###