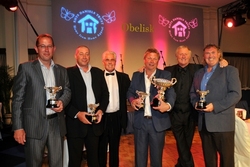 (PRWEB) June 14, 2008
Under the patronage of The Duchess of Kent, the latest appeal aims to provide accommodation for families with children receiving long-term treatment at the Children's Unit in Southampton General Hospital or the Neonatal Unit at the Princess Anne Hospital in Southampton.
As part of their 'property investment for others' campaign, Obelisk sponsored the Max Clifford Celebrity Golf Challenge, which was held over 3 days at La Cala Golf Resort on the Costa del Sol, Spain from 5th to 7th June.
The 3-day event was attended by Vice Patrons Max Clifford and Pauline Quirke, and numerous celebrities including Chris Tarrant, Des O'Connor, Johnny Briggs, Bobby Davro and Gary Shaw.
Competing in the Golf Challenge were 27 international teams, each comprising 4 team members with many celebrities participating.
Day One of the Challenge saw locals and celebrities testing their golfing skills during a preliminary practice round before later competing for 2 days on the Europa and Asia Golf Course.
Obelisk was the proud winning team under the captaincy of Gary Shaw, ex-Aston Villa star. The Obelisk-sponsored event is due to be televised on Sky Sports in a 90-minute special towards the end of June.
The highlight to the 'Home from Home' Appeal on the Costa del Sol was the Butterfly Ball, held at Marbella's iconic Puente Romano hotel and attended by more than 400 guests. Ball guests were treated to star-studded entertainment led by Bobby Davro and Stan Boardman, and were able to bid in the charity auction for items such as Ricky Hatton's boxing gloves, Wayne Rooney's England shirt and a signed Picasso pencil sketch.
During their campaign for investment in property to help families in need, Obelisk has raised in excess of €50,000 for The Rhys Daniels Trust, proving that as well as generating personal wealth through investment, it is also possible to invest in wealth and benefit for others.
###