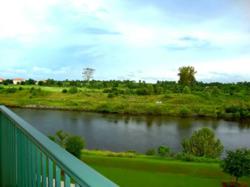 North Myrtle Beach, SC (PRWEB) January 31, 2013
Looking to book a spring golfing vacation? Vacation Rentals of North Myrtle Beach is offering guests a special: $30 per person per day (plus taxes and fees) and one free round of golf per reservation when they rent a home or condo in April. The company can also set up tee times for all guests.
North Myrtle Beach has palatial, well-maintained golf courses suited for all levels of play, and Vacation Rentals of North Myrtle Beach has homes and condos close to some of the best courses, as ranked by the Myrtle Beach Golf Association. Highlights from the MBGA's list include the Fazio course at the Barefoot Resort, which Golf Magazine ranked the eighth best public course in South Carolina, and the Grande Dunes Resort course, which Golf Magazine ranked nineteenth. Vacation Rentals of North Myrtle Beach has condos at both these resorts.
The company has many other great golfing condos, including Pier Watch Villas #309. This gorgeous 6BR/4BA 2nd row condo is completely remodeled with new furniture and kitchen appliances. The property is right across from the beach and Cherry Grove Pier. Another ideal property for golfers is Windy Hill Dunes, a wonderful 3BR/3BA oceanfront condo in the Windy Hill section of North Myrtle Beach. The complex has an oceanfront pool, a lazy river, a kiddie pool and a hot tub, and Barefoot Landing and Highway 17 are only minutes away.
Vacation Rentals of North Myrtle Beach is conveniently located at 1021 2nd Avenue North, Suite 6 and can be contacted directly to discuss rental properties at 1-888-488-8588 or online at vacationrentalsofnmb.com.
###