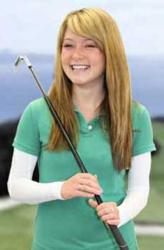 San Diego, CA (PRWEB) July 10, 2012
In just fifteen minutes, dangerous UV rays can damage unprotected skin. Too much time spent outside without adequate protection will reveal itself with age spots, deep wrinkles and even skin cancer. And, skin cancer is the number one type of cancer for both men and women. Over 90 percent of skin cancers are caused by excessive exposure to damaging rays. Sun damage occurs over a long period of time and it can take years for the problems associated with it to surface.
The average time to play a round of golf is three to four hours, but it can stretch to five to six if the group is a foursome and if the course is crowded. One thing for certain, at least a portion of the round, if not all, will be played during the peak hours of UV (ultraviolet) radiation which runs from 10 A.M. to 4 P.M.
Before the teeing off, remember these five rules:

Wear a hat with a brim of at least three inches. The bigger the brim, the greater protection for the face and neck.
Wear sun protective clothing. UPF (Ultraviolet Protection Factor) sleeves, gloves and dickeys are available and made just for golfers.
Seek shade under an umbrella or tree. With a 62 inch arc, a UPF golf umbrella will keep you 10 degrees cooler.
Apply and reapply a broad-spectrum sunscreen that will protect against UVA and UVB rays. Try and play early in the morning or later in the afternoon to avoid peak hours.
Be mindful of reflective rays from water hazards and sand traps. Wear UV protective sunglasses to protect the eyes.
Sun Grubbies.com has been an e-retailer providing sun protective clothing and accessories to sun lovers for over 14 years. Their goal is to help people enjoy a lifetime of good health by offering products of the highest quality and reliability at affordable prices. All of their products have been laboratory tested for their sun protective quality and many are recommended an approved by The Skin Cancer Foundation and the Melanoma International Foundation.
Every purchase is 100 percent guaranteed for satisfaction.
Visit http://www.sungrubbies.com for more information about sun protective products. They can also be reached toll free (888)970-1600. To join the SunGrubbies.com affiliate program, go to http://bit.ly/ifRDrH. The boutique showroom and hat shop in San Diego is now open to the public Tuesdays through Thursdays from 10:00 A.M. to 3:00 P.M.