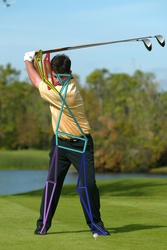 Orlando, FL (PRWEB) August 24, 2009
When athletes set their sites on the most coveted title in the world of Women's Professional golf, their preparation must be flawless. This year's 2009 Women's US Open champion is one of many young Asian LPGA Tour players who have turned to ModelGolf for the ultimate in golf swing analysis and evaluation. And it is paying off!
Won Park, who operates two ModelGolf facilities in Korea, is proud to have such talented women come to his professional instruction facilities to prepare their golf swings for the tests they will face on the LPGA Tour. He is able to build each player's personal Model Overlay using patented technology, then using high speed film, superimpose it directly on to their golf swing. But where does the original Model come from and who says that it is the right model to pattern yourself after?
With more than 25 years of painstaking research using high speed film to map the swings of more than 140 male and female PGA and LPGA Tour players, ModelGolf was able to identify the commonalities amongst the best swings in the World and a Model was born. However, since no two players have the same build, ModelGolf developed a patented ModelOverlay that is built specifically to each player's body dimensions. The information is input into ModelGolf's software and in a split second, the Model appears and fits the student perfectly. With the assistance of qualified Instructors, the comparisons begin and golf improvement is inevitable.
This year's 2009 Women's US Open champion is no doubt happy she has ModelGolf in her bag of training tools. ModelGolf congratulates her on a spectacular win and encourages amateurs and professionals alike to visit ModelGolf.com and learn about her and other champions use ModelGolf to fine tune their games.
ModelGolf, LLC is based in Orlando, Florida and has more than 80 golf instruction facilities worldwide who utilize the ModelGolf video teaching tool and software.
Contact:
Cam Abascal
ModelGolf, LLC
407-851-9408
http://www.modelgolf.com
###