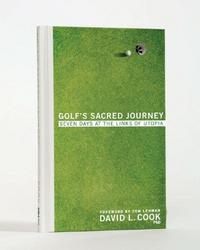 My hope is that both golfers and non-golfers alike will be moved by the story of powerful transformation that takes place in Golf's Sacred Journey
Grand Rapids, MI (Vocus) June 16, 2010 —
His years of working with top professional athletes, including two-time NBA World Champion David Robinson and former PGA Tour player of the year Tom Lehman, has given author and sports psychologist David Cook the inspiration to give away free lessons on golf and life just in time for Father's Day. Free ebooks of Golf's Sacred Journey: Seven Days at the Links of Utopia will be available for download from June 7 to June 25. (Available for both the iPad and Kindle.)
"My hope is that both golfers and non-golfers alike will be moved by the story of powerful transformation that takes place in Golf's Sacred Journey," said Cook. "Endorsed by winners of each of the four majors on the PGA Tour, this book goes far beyond the golf course, focusing on what really matters in life."
Golf's Sacred Journey tells the story of a "chance" meeting between a fictitious aspiring professional golfer and a Texas rancher. As the story unfolds, they learn lessons about golf and life they never expected to learn in places they never expected to learn them.
"This unflinching look at frustration, failure and redemption taps into a need all of us have but few of us understand — a need for significance," says Dudley Delffs, trade book publisher for Zondervan. "It's one of life's universal desires as explored by one of the most respected names in sport."
As a leading peak performance coach, Cook has spent the last 25 years working with top professional athletes and corporate leaders, helping to move them forward in their career. But his passion goes beyond that as part of his quest to move people from success to significance.
"People from all walks of life will recognize themselves in this unique journey of a rancher with a passion for teaching truth and a young golf professional at the end of his rope," continued Cook. "This story will have a powerful impact on your game and a profound impact on your life."
Cook is a celebrated performance psychologist, entrepreneur, motivational speaker and author.
His clients have included NBA World Champions, National Collegiate Champions, PGA Tour Champions, olympians and many Fortune 500 companies. His articles have been featured in Golf Magazine, Golf Illustrated and Golf Tips. David is a Baylor University graduate and received a doctorate in sport and performance psychology from the University of Virginia. He and his wife, Karen, have been married for nearly 30 years, have two daughters and live in Fredericksburg, Texas.
For more information and to download your free ebook visit http://golf.zondervan.com/
About Zondervan
Zondervan is the world's leading Christian publisher of books whose authors are noted for their excellence in the craft of writing as well as their worthy contribution to the ongoing global Evangelical conversation. The works published by Zondervan not only confirm readers' faith and understanding, they also challenge and stretch readers' thinking. For more than 75 years, Zondervan has delivered transformational Christian experiences through general, ministry and academic resources by influential leaders and emerging voices and been honored with more Christian Book Awards than any other publisher. Headquartered in Grand Rapids, Mich., Zondervan publishes bestselling books, audio, video, curriculum, software and digital products in such categories as biblical languages and studies, biography, business, contemporary issues, counseling, cultural, devotional, evangelism, family, fiction, history, inspiration, leadership, ministry, pastoral, personal development, prayer, philosophy, reference, relationships, textbooks, theology, youth and more. Zondervan resources are sold worldwide through retail stores, online and by Zondervan ChurchSource and are translated into nearly 200 languages in more than 60 countries.
Visit Zondervan Books on the Internet at http://zondervan.com/books/
Contact: Robin Geelhoed
Phone: (616) 698-3345
# # #