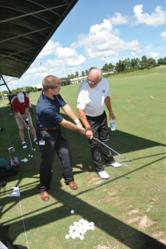 Port St. Lucie, FL (PRWEB) December 03, 2012
Bobby Clampett, well-known PGA and Champions Tour player, TV Golf commentator, and author of a popular golf instruction book "The Impact Zone", has partnered with Impact Zone Golf and the Keiser University College of Golf to offer students the opportunity to be trained in the IMPACT ZONE™ curriculum. As a result of the golf program, students can earn IMPACT ZONE Player Certification, which signifies their understanding and knowledge of Impact-Based™ teaching.
In addition, students also are eligible to complete the process of becoming an IMPACT ZONE Associate Certified Instructor, which is the first level of instructor certification programming of Impact Zone Golf. This gives the student an official teaching credential, adding to their value for the potential employer in the golf industry.
"We are pleased to be associated with the Keiser University's College of Golf. They have such a fine institution, curriculum, and an excellent quality staff. Their teaching staff includes some of the highest levels golf teaching professionals and tour playing professionals! "says Bobby Clampett . "We at Impact Zone Golf are thrilled to have them to become the first academic institution affiliated with IMPACT ZONE curriculum and our Impact-Based teaching. The students graduating from Keiser University's College of Golf are well trained for a career in the golf industry. I love visiting the campus, performing clinics for the students, and working with their professionals. They also have some of the best practice and teaching facilities in the nation!"
The Keiser University College of Golf features a 20,000-square-foot facility includes a 1,500-square-foot indoor putting green, advanced launch monitor technology, TaylorMade MAT-T swing analysis system, an interactive golf simulator provided by ForeGolf powered by SIRGUL, and a golf club repair lab equipped by Mitchell Golf Equipment. Students also receive access to the highly acclaimed PGA Center for Golf Learning and Performance where they can practice on a 35-acre lighted practice range, short game areas, bunker facility and extensive putting greens. Keiser University College of Golf also gives students daily access to several PGA Master Professionals, such as Brian Hughes, Dr. Eric Wilson, and Golf Magazine top 100 teacher T.J. Tomasi.
Keiser University's Golf School prepares students for a variety of positions in the golf industry. In this program, students are prepared to provide golf instruction, manage golf course operations, ensure appropriate maintenance of golf facilities and equipment, as well as integrate the play of golf into the broader hospitality and recreation domain.
Students interested in attending Keiser University College of Golf can inquire at the College of Golf campus at 1860 Fountainview Blvd, Port St. Lucie, Fla.; online at http://www.CollegeofGolf.KeiserUniversity.edu; or call 888.355.4465.
About Keiser University
Keiser University (KU) is a private, not-for-profit university serving nearly 18,000 students pursuing doctoral through associate degrees on 15 campuses and online, and employing nearly 3,500 staff and faculty. Sixty-two percent of KU students graduate in STEM (Science, Technology, Engineering and Math) and healthcare fields, providing the talented workforce necessary for Florida to compete globally.
Keiser University is accredited by the Commission on Colleges of the Southern Association of Colleges and Schools to award certificates and degrees at the associate, baccalaureate, masters, and doctoral levels. Contact the Commission on Colleges at 1866 Southern Lane, Decatur, Georgia 30033-4097 or call 404-679-4500 for questions about the accreditation of Keiser University.