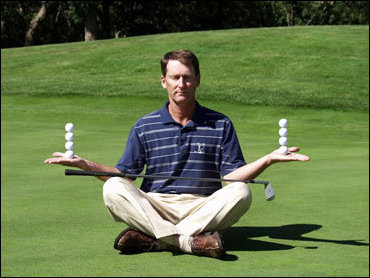 Golfers could actually hit the vines that makes the wine he will receive later as a gift
Napa, CA (PRWEB) July 19, 2006
For those looking to experience the wine country in style look no further than the golf and lifestyle packages through Kris Moe Golf Schools.
"This isn't your typical golf school where golfers hit balls until the point of exhaustion. Golf improvement is a significant part of our package, but I understand more than ever people are going 24/7 and at some point have to disconnect and recharge themselves. Golf is great outlet but we've got so much to offer in this region. I want my guests to have a deep and rich experience of the wine country. When they make their booking we'll co-create an amazing itinerary (sample itinerary) with them that fits them."
Offering activities that encourage health and well being, guests may also immerse themselves in cooking and racecar schools or an actual day of wine making from vine to barrel with Kris Moe, an accomplished winemaker (Kris Moe Wines, Nineteenth Hole).
The golf training takes place at a private practice area with playing lessons on the twenty-seven hole Chardonnay Golf Course. "Golfers could actually hit the vines that makes the wine he will receive later as a gift", mentions Kris. "there are Chardonnay and Syrah vineyards in and around the golf course."
The hotels of choice recommended for this package is the Carneros Inn, one of Travel and Leisure's top hotels in the world or the newest Auberge resort, Calistoga Ranch. Both are ultimate luxury resorts that make the visit to the wine country even more extraordinary.
Some notable students who have enhanced their game with Kris Moe include actor Samuel L. Jackson, Tommy Smothers, Joe Montana and numerous corporate CEOs.
All packages are available at the Kris Moe Golf Schools web site. For more information, or to talk with Kris Moe, please contact him at 707-939-0523.
# # #