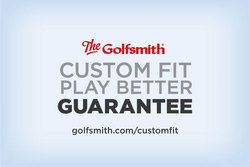 Our core purpose is to inspire people to play better and love life more
Austin, TX (Vocus) March 10, 2010
When you ask golfers what's most important to them in 2010, a vast majority say that "playing better" is at the very top of their list. Now Golfsmith is making game improvement a "guarantee" for golfers everywhere.
Golfsmith International Holdings, Inc. (NASDAQ:GOLF) announced today its new Custom Fit Play Better Guarantee. When golfers get custom fit with any brand of new clubs purchased in Golfsmith retail stores, online at golfsmith.com or via the company's contact center, Golfsmith is guaranteeing that golfers will play better, or they can simply bring their clubs back, no questions asked.
"Our core purpose is to inspire people to play better and love life more," said Marty Hanaka, president and CEO of Golfsmith. "There is no better way to help golfers play better then to get them custom fit and give them the confidence to return their clubs if their game doesn't improve. We're making it easy to play better and buy with confidence."
The Custom Fit Play Better Guarantee works like this:
Step 1 – Get custom fit (in-store, online or via Golfsmith's contact center)
Step 2 – Buy any new club based on your personal fit
Step 3 – Go play better golf, and if you don't simply return your clubs within 90 days for a full in-store credit
"We're the first retailer to offer this type of unique guarantee," said Hanaka. "Our Custom Fit Play Better Guarantee will help golfers have their best season ever."
The Custom Fit Play Better Guarantee launches today and runs through April 25. For more details visit http://www.golfsmith.com/customfit.
About Golfsmith
Golfsmith International Holdings, Inc. (NASDAQ:GOLF) is a specialty retailer of golf and tennis equipment, apparel and accessories. The company operates as an integrated multi-channel retailer, offering its guests the convenience of shopping in its 74 stores across the United States, through its Internet site and from its assortment of catalogs. Golfsmith offers an extensive product selection that features premier branded merchandise, as well as its proprietary products, clubmaking components and pre-owned clubs.
Cautionary Language
Certain statements made in this news release are forward-looking in nature and, accordingly, are subject to risks and uncertainties. These forward-looking statements are only predictions based on our current expectations and projections about future events. Important factors could cause our actual results, performance or achievements to differ materially from those expressed or implied by these forward-looking statements. These factors include, but are not limited to, those discussed in our Form 10-K, filed March 3, 2009 under the caption "Risk Factors."
###