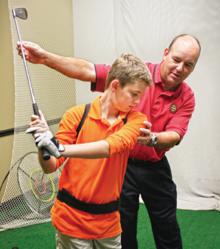 Centennial, Colo. (PRWEB) May 28, 2013
GolfTEC—the world leader in golf improvement—has declared June the month for juniors, as it reaches out to young champion golfers with a special, limited time offer just for them.
With school done and the lazy days of summer ahead, GolfTEC is promoting a 30% discount on its services to everyone 18 and younger. Offerings at GolfTEC start with a Swing Evaluation and include lesson plans and programs. With summer just around the corner, "June is for Juniors" could be just the push young golfers—whether beginners or junior champions—need to enjoy the greatest game of all.
There is nothing "junior" about GolfTEC's program. It's not group instruction and you won't find any of the camp activities or cookouts often associated with typical summer golf lessons. Youngsters receive the same private lessons given by GolfTEC's 600 Certified Personal Coaches at more than 170 improvement centers in North America.
Juniors also will appreciate the technology incorporated into every GolfTEC lesson. At the centers, they'll be taught in private indoor bays that maximize the learning experience by using the company's proprietary software. Called g-SWING, it combines digital video with motion measurement to capture key body positions throughout the swing. A simple "red-yellow-green" display guides instruction and reinforces swing changes.
The learning continues at home with GolfTEC's "Player Performance Center," the personalized, web-based system that allows students to relive their lessons while also reviewing their coach's instructions, video drills, and tracking personal progress. The Player Performance Center is available anywhere, anytime over the Internet and on GolfTEC-To-Go, the company's app suitable for mobile devices.
June is the perfect month to help youngsters get better, faster and enjoy the game more. While the 30% discount is available to those 18 and younger for a limited time, GolfTEC encourages kids and their parents to take advantage of this offer right now and help begin the best summer ever.
As GolfTEC says to parents, "Sooner or later, they will beat you. Make it sooner."
For more information, or to locate the nearest GolfTEC Improvement Center, call (877) 446-5383 or visit http://www.golftec.com.
# # #
About GolfTEC
The global leader in golf improvement, GolfTEC gives more than 25% of all private golf lessons in North America annually and has a 95% success rate among its students. The 600 GolfTEC Certified Personal Coaches at 170 centers worldwide, including more than 70 within Golfsmith stores, have given more than 4 million lessons since 1995. All lessons are based on the company's "Five Factors:" Fact-Based Diagnosis, Sequential Lessons, Video-Based Practice, Advanced Retention Tools, and Precision-Matched Clubs. GolfTEC Improvement Centers can be found in almost all major U.S. cities, Canada, Japan and Korea. Call 877-446-5383 or visit http://www.golftec.com.