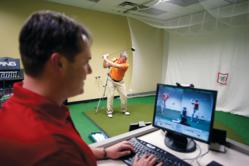 "The evaluation is the first step on the road to understanding the golf swing," explains Mike Clinton, COO and co-founder of GolfTEC
Centennial, CO (PRWEB) April 17, 2013
The time is now to start a plan of attack to play better golf, as GolfTEC – the world leader in golf improvement – has launched a special offer on swing evaluations.
Available now through May 29, each personalized, computerized swing evaluation is only $99, close to a 50 percent savings that will put golfers on a proven path to better ball striking and saving strokes on the golf course.
"The evaluation is the first step on the road to understanding the golf swing," explains Mike Clinton, COO and co-founder of GolfTEC, which has a 95 percent success rate with its students. "It helps good players who want to hone their games, as well as new golfers who want to learn how to play the right way, from the start."
The one-hour swing evaluation is conducted by one of GolfTEC's certified personal coaches. With the help of the company's proprietary g-SWING system, which combines video and computerized measurement of key body movements, coaches identify areas for improvement in every part of the swing, from set-up to follow-through.
Every swing evaluation is recorded from two high-speed digital cameras providing front and side views with visual frame-by-frame feedback. By utilizing advanced technology to accelerate improvement golfers will see the results in weeks.
"If you've ever thought about golf lessons," Clinton said, "or ever wondered what's really going on with your swing, this is your chance to find out. It's a great experience, a great hour, and a steal at $99." Should we say something about being a great start-you get a game plan for improvement?
GolfTEC, which sometime this spring will give its four millionth golf lesson, operates more than 170 improvement centers in the U.S., Canada and Asia.
To register for the $99 spring swing evaluation, visit http://www.golftec.com/99 or call 877/446-5383.
# # #
About GolfTEC
GolfTEC, the global leader in golf improvement, gives more than 25% of all private golf lessons in North America annually and has a 95% success rate among its students. The 600 GolfTEC Personal Certified Coaches at 170 centers worldwide, including 68 within Golfsmith stores, have given more than 3.9 million lessons since 1995. All lessons are based on the company's "Five Factors:" Fact-Based Diagnosis, Sequential Lessons, Video-Based Practice, Advanced Retention Tools, and Precision -Matched Clubs. GolfTEC Improvement Centers can be found in almost all major U.S. cities, Canada, Japan and Korea. Call 877-446-5383 or visit http://www.golftec.com.