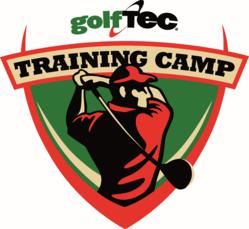 Denver, Colo. (PRWEB) January 03, 2013
While most golfers will be settling in for more time on the couch this winter, serious golfers will be reporting to "Training Camp" starting today (Thursday, January 3, 2013) at 165 GolfTEC improvement centers throughout the U.S. and Canada, including 68 located within Golfsmith stores.
The undisputed leader in golf improvement, GolfTEC created its new "Training Camp" for golfers committed to elevating their game, from opening day all the way to the last day of the golf season.
Just like the professional baseball players who will be reporting to camp in the coming weeks, golfers also can experience "Training Camp" through the GolfTEC program, now available at http://www.golftec.com/trainingcamp.
"Training Camp" starts with a complete swing evaluation by a GolfTEC Certified Personal Coach, all captured on video and with sophisticated motion measurement technology. This information is evaluated and followed by a series of 10 private lessons inside specially equipped GolfTEC training bays. Additionally, 18 hours of video-based practice is worked into each golfer's "Training Camp" schedule.
The key component is GolfTEC's proprietary g-SWING system, which combines digital video with motion measurement, capturing body positions at 24 different points throughout the swing. A simple color-coded display guides instruction and reinforces swing changes. Lessons don't end at the center's doors. Using the personalized, online Player Performance Center, every student can review his lessons—including full video and the coach's instructions—anytime and anywhere via the Internet.
GolfTEC, known as the "go-to name in golf instruction," has a 95 percent success rate among its students. All GolfTEC lessons are taught one-on-one in private, indoor bays that maximize the learning experience. GolfTEC utilizes proprietary teaching technology and the skills of its Certified Personal Coaches to help golfers improve their skills and increase enjoyment of the game.
"Training Camp" is not as easy as sitting home on the couch. And it's not as simple as just taking a lesson. It's going to take real effort. Golfers who report to "Training Camp" will see the difference – particularly on their scorecard, all season long.
For more details, visit http://www.golftec.com/trainingcamp or call 877/446-5383.
About GolfTEC
The global leader in high-tech golf improvement, GolfTEC gives more than 25% of all golf lessons in the U.S. annually and has a 95% success rate among its students. The 500 GolfTEC Personal Certified Coaches at 165 centers nationwide, including 68 within Golfsmith stores, have given more than 3.7 million lessons since 1995. All lessons are based on the company's "Five Factors": Fact-Based Diagnosis, Sequential Lessons, Video-Based Practice, Advanced Retention Tools, and Precision-Matched Clubs. GolfTEC Improvement Centers can be found in almost all major U.S. cities, Canada, and Japan, with a new center opening this year in Korea. Call 877-446-5383 or visit http://www.golftec.com