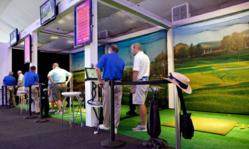 Centennial, Colo. (PRWEB) June 04, 2013
GolfTEC, the world leader in golf improvement, has developed two specialized divisions – GolfTEC Events and GolfTEC Connect – to enhance corporate partnerships and expand GolfTEC's exclusive client services.
As the largest and most successful provider of golf instruction in the world - giving more than four million lessons since its inception in 1995 - GolfTEC continues to develop new ways to help golfers improve and increase enjoyment of the game.
GolfTEC Events is the professional event management division of GolfTEC, while GolfTEC Connect creates opportunities for corporate partners to interact with the highly desirable demographic that GolfTEC serves.
GolfTEC Events uses patented technology to create interactive sports experiences that go beyond the traditional structure of corporate events, offering the unique ability to customize, personalize and scale nearly every component of an event to ensure that each and every participant connects to the desired brand. The result is what GolfTEC Events refers to as an "intense branding opportunity."
"GolfTEC Events empowers our corporate partners to target and capture a very engaged, passionate golf demographic at events, while showcasing their products and services," says Steve Bauerle, Vice President of Business Development for GolfTEC. "At the same time, GolfTEC Connect enables us to selectively showcase products we believe to be of interest to our client base."
GolfTEC Events goes "on location" with its cutting-edge technology and a special team of certified coaches to provide a positive golf experience for a corporate partner and its guests. GolfTEC Events is a product of 14 years of experience staging events for Fortune 500 companies and successful presentations at major championship venues annually (such as the 2012 PGA Championship, in photo), national trade shows and many prestigious PGA Tour sites.
Experiences at these venues may include:
-Golf Lessons
-Swing Capture
-Simulator
-Putting
-And more
GolfTEC Events also represents experiences that may include instruction and staff golf professionals at experiences like:
-Golf Retreats
-Golf travel
"GolfTEC Events added a new dimension to the way we are able to help our partners," said Jason Banks, Vice President Director, Business Leadership of Momentum. "The on-site interaction with certified golf professionals and the follow-up program they set up to drive participants to the web allowed our partners to build stronger relationships and connect with new clients both onsite and long after the event."
The new GolfTEC Connect platform provides exclusive opportunities for corporate partners to connect to the GolfTEC client database through:
-Exclusive sponsorship
-Endorsements
-Messaging on the GolfTEC website, newsletter
-Emails to the database
-Product placement at Improvement Centers
-Product trials
-GolfTEC certified coaches (apparel, equipment, etc.)
For further information visit http://www.golftec.com or call (800) 208-2416.
About GolfTEC
The global leader in golf improvement, GolfTEC gives more than 25% of all private golf lessons in the North America annually and has a 95% success rate among its students. The 600 GolfTEC Certified Personal Coaches at 170 centers worldwide, including 70+ within Golfsmith stores, have given more than 4 million lessons since 1995. All lessons are based on the company's "Five Factors:" Fact-Based Diagnosis, Sequential Lessons, Video-Based Practice, Advanced Retention Tools, and Precision-Matched Clubs. GolfTEC Improvement Centers can be found in almost all major U.S. cities, Canada, Japan and Korea. Call 877-446-5383 or visit http://www.golftec.com.