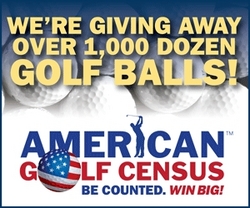 "Politicians won't be the only individuals celebrating after Election Day," says Joe Beditz, President & CEO of the NGF
Jupiter, FL (PRWEB) October 26, 2010
The National Golf Foundation (NGF) announces it will accept entries for its first American Golf Census Sweepstakes through Election Day, November 2.
Six grand-prizes will be awarded: dream golf vacations to Pebble Beach, Pinehurst, Scotland and Ireland; instruction at the ANNIKA Academy in Orlando; and a tournament weekend in Augusta, GA.
Also announced will be thousands of winners of premium golf equipment from Callaway, Nike and TaylorMade.
"Politicians won't be the only individuals celebrating after Election Day," says Joe Beditz, President & CEO of the NGF, the industry-leading provider of information and insights into the business of golf. "Thousands of golfers will also be winners – of a total prize package valued at over $100,000, the largest ever in golf."
The American Golf Census presents golfers with a unique opportunity to stand up and be counted as golfers, and in so doing support the game. Information obtained from the Census will be used to demonstrate to policymakers golf's impact on the lives of millions of Americans.
For more information about the American Golf Census: http://www.ngf.org, http://www.americangolfcensus.com, e-mail census@ngf.org.
About the National Golf Foundation
The National Golf Foundation, founded in 1936 and based in Jupiter, Florida, is the industry's knowledge leader on the U.S. golf economy. NGF delivers independent and objective market intelligence, insights and trends to fulfill its mission: To Keep Golf Businesses Ahead of the Game. NGF's 4,000 member courses, clubs, associations, media and golf-related businesses in every market segment rely on NGF research and resources to support their decision-making.
For more information: http://www.ngf.org, 561.744.6006.
###