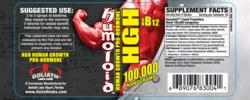 Different Options One Solution
Kingston, New York (PRWEB) July 05, 2012
Growth hormone (GH) is one of the most coveted drugs in the athletic, bodybuilding and anti-aging communities because of the myriad of positive effects it imparts upon users. Bodybuilders and athletes generally utilize GH for its incredible physique transformation properties.
Goliath Labs, A New York State based Bodybuilding and Sports Nutrition Supplement Company recently concluded their search analysis and now proudly announces their natural growth hormone, Humoloid, has the highest natural growth hormone precursors on the market today. After conducting an extensive search of all natural growth hormone supplements available to bodybuilders and weight lifters, Humoloid has the highest concentration with 100,000 nanograms per dosage.
Human growth hormone (HGH) plays a vital role is staying young, long after the body has stopped growing. After the body stops growing taller, levels of HGH decline and often become very low in adult life. HGH has effects on body composition and plays a vital role in metabolism. For all people, their levels of HGH begin to decline at age 30 and decreases 2% yearly after that.
When deficient in growth hormone, some people experience an increase in belly fat, sagging skin and a decrease in muscle mass. The goal for those seeking a youthful image or muscle definition is to keep HGH at an optimum level as one ages as late into life as possible. According to owner and Chief Executive Officer, Bart Panessa, "Humoloid and all Goliath's bodybuilding supplements have one thing in common, legitimacy. Just as I had an employee spend a work week researching natural growth hormone products, I will always first confirm that any statements made regarding Goliath's products are legitimate."
The off-label use of human growth hormone (HGH) has spawned a multi-billion dollar industry. The most common way to make up for human growth hormone deficiency is by intravenous injection. Some physicians view HGH as a fountain of youth and others are opposed fearing the risks. The FDA has not approved the use of HGH as an anti-aging therapy or sports nutrition supplementation strategy.
However, there are safe alternatives to naturally boost the levels of growth hormone without physician assistance or illegal purchase and injections. In addition to natural growth hormone supplementation, exercise, strength training and bodybuilding also are powerful stimulants for growth hormone secretion.
To confirm Humoloid had the highest levels of growth hormone precursors, Goliath Labs conducted an online investigation using the most popular search engines available. After an estimated 35 hours of inquiry conducted between May & June 2012, Goliath Labs concluded Humoloid has the highest concentration of natural growth hormone precursors available on the market today.
Of the many physiological benefits connected to GH, a radical reduction in body fat with a concomitant increase in lean muscle tissue is the one benefit highly sought after most by bodybuilders. More mainstream users of GH also enjoy benefits such as greater cardiac output, enhanced memory, improved sleep, stronger bones, sharper vision, increased immune system function, thicker skin, hair re-growth, better cholesterol profile, decreased blood pressure and a revitalizing of the body's essential organs.
Unfortunately, GH must be physician prescribed and can be very costly. Goliath Labs spent years looking for a solution and finally perfected their formula. Humoloid, the brand name of Goliath Labs natural pro-growth hormone supplements, contain a scientifically engineered blend of 100,000 nanograms of natural growth hormone precursors available without a prescription or engaging in illegal activities. By using Humoloid, the body is coaxed into releasing greater amounts of its own GH. As an adjunct to a healthy diet, adequate sleep and regular weight lifting, bodybuilders and athletes alike have reported an increase in muscle mass, definition, strength and athletic performance. As a natural pro-growth hormone, Humaloid's 100,000 nanograms per dosage, presently is the highest on the market today.
About Goliath Labs
Goliath Labs is a New York State based Bodybuilding and Sports Nutrition Supplement Company. As a leading manufacturer and distributer of bodybuilding and sports nutrition supplements, products and workout devices, Goliath Labs proudly adheres to guidelines set forth by the FDA and all their products are formulated using 100% natural based ingredients. At their website, they offer consumers a variety of bodybuilding, male enhancement and athletic performance products.
To Contact
Bart Panessa
C.E.O., Goliath Labs
772-291-7510
Website: http://www.goliathlabs.com