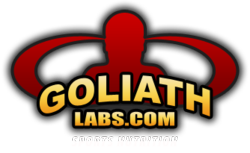 Many Options One Solution
Kingston, New York (PRWEB) July 16, 2012
Goliath Labs is best known for its commitment to quality. To ensure exceptional quality and consistent FDA compliance, Goliath Labs has spent a great deal of funds, time and effort ensuring their state of the art production facility is supported by an equally impressive chemical and microbiological laboratory. This assures that their natural male enhancement, workout & bodybuilding supplements meet the highest of standards. With their unwavering eye on the future and because they prioritize stringent testing and quality standards, Goliath Labs was designed to fulfill all current and future testing demands.
Stated by Goliath Labs Inc.'s Chief Executive Officer and owner, Bart Panessa "We stand by our products having sold them for years and presently selling them now consistently achieving high satisfaction and reorder rates. We don't need to use embellished advertisements because our products work. We're offering a 20% discount on all products to make staying healthy and getting fit a little easier on the wallet in these difficult times. "
Natural male enhancement, workout, bodybuilding and sports nutrition company, Goliath Labs, recently announced their 2012 Summer Sale campaign, offering consumers a 20% discount on all their products through August 31, 2012. Despite a consistent growth in their FDA compliant and analogue free dietary supplements manufactured in the USA, Goliath Labs has discounted their workout and male enhancement supplements given difficult economic times. As directed at their website, customers simply fill in the coupon code box with "Save 20%" and their final cost will be instantly re-calculated at check out.
Goliath Labs manufactures and distributes products that are available at their website, Amazon, Ebay and reputable nutrition, vitamin and supplement retail outlets nationwide.
To ensure safety and quality, their natural male enhancement, workout, bodybuilding and sports nutrition supplements are manufactured in a G.M.P. certified facility. The G.M.P. certification program is based upon third party inspections and comprehensive audits. This program ensures the formulation process is reviewed for safety and quality during manufacturing. All of their vitamins, supplements and whey proteins have consistently tested negative for all analogues including PDE-5 tests. Goliath Labs can verify the two most important aspects of manufacturing dietary supplements as follows:
GMP Certified Facility: All their vitamins and supplements are GMP certified affording clients and consumers the comfort of knowing their products have been manufactured in a facility that not only meets, but exceeds normal standards for quality manufacturing.
Guaranteed Analogue Free: At the end of 2010, the FDA initiated a public health alert to protect consumers regarding companies manufacturing potentially toxic dietary supplements. As a client or consumer of Goliath Labs, consumers can be sure their products will always be compliant with all dietary supplement regulations set forth by the FDA.
About Nutraloid Labs Inc.
Nutraloid Labs Inc., owner of Goliath Labs, Colossal Labs and Herberex Inc., is a New York State based Sports Nutrition and Male Enhancement Supplement Company, which offers for wholesale, retail and private label their proprietary blend dietary supplements. In addition to sports nutrition and natural male enhancement supplements, Nutraloid Labs also acquired ownership in 2010 of an innovative work out tool called the Bicep Bomber. All Nutraloid Labs Inc. products are manufactured under a strict GMP certified manufacturing process using high quality naturopathic ingredients. In addition to being manufactured in GMP certified facilities and made in the USA, all Nutraloid Labs Inc. products are compliant with dietary supplement regulations set forth by the United States Food and Drug Administration. To discuss private label, wholesale or international distribution partnerships, feel free to contact the Chief Executive Officer, Bart Panessa, at (772) 291-7510.
Contact:
Bart Panessa
Chief Executive Officer
Nutraloid Labs Inc.
772-291-7510
Website: http://www.GoliathLabs.com