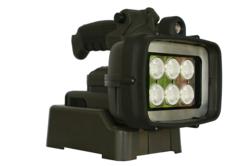 Its not a flood light, its just MORE light!
Lillington, NC (PRWEB) March 30, 2012
When is a flashlight more than a flashlight?
Many might smirk at a question posed with such simplicity in anticipation of a corny schoolyard joke, but the reality is there is actually a difference between the flashlights of yesterday and the battery powered, handheld LED scene lights of today. Whats so great about these new handheld LED scene lights?
By getting rid of the traditional halogen lamps and incorporating a high powered LED diode pack in to the instrument, users will see lamp life up to 55,000 hours, output close to 6,000 lumens, and highly efficient effective light output (90% efficient, specifically within the visible light spectrum).
What does this mean to a layperson? "Its like using a shotgun rather than a rifle," says Sam Massa, the innovator behind HiViz LED's newest product. He says, "It has all the benefits of a traditional spot light, but you have the advantage of being about 10 times as wide. Its not a flood light, its just MORE light."
What Sam is talking about is a new product aimed at re-vamping the handheld market. HiViz has developed a product that enhances the traditional GoLight Profiler II searchlight. They call it the HiViz Profiler LED.
If you're not familiar with the profiler, it is a rechargeable, battery powered, handheld searchlight designed for use by fire, rescue, police and the military. It features a removable lythium-polymer battery pack and boasts up to an hour runtime at full power.
One of the most exiting features is that the light itself is tripod mountable. This, coupled with the HiViz LED diode pack, means you can quickly deploy it as an unmanned scene light.
"Picture this" says Sam, "You've got a volunteer rescue squad in a small town. An MVA comes across the radio, caller advises injured parties with entrapments. Its 2 AM and 4 guys show up for the call. They get a truck en-route to do a size up and begin sorting out the emergency. When they arrive, they find the car off the side of the road, down an embankment and determine an extraction is going to be necessary. The light tower on the rescue truck is not going to be effective down the embankment and more light is needed." Quickly, Sam says, they will find themselves needing more manpower. "It'll take two guys to start stabilizing the vehicle, one to begin patient assessment, and one to begin moving rescue tools down the hill to begin the extrication."
In this situation, a battery powered solution mounted to a tripod is exactly what they need. Its small enough they can throw it over their shoulder and still work their way down the hill. Its also wireless, so no limitation to how far they can be from their rescue truck.
For more information about this or any other LED scene lighting solution, please contact HiViz LED Lighting at 703-662-3458 or email sales(at)hivizleds(dot)com