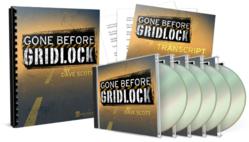 The knowledge and plans for evacuations shared by "Gone Before Gridlock" are sure to help anyone with their plans and strategies.
Austin, TX (PRWEB) September 21, 2012
Evacuations that get people out of harm's way safely and quickly require pre-planning and preparations to be effective, said a recent online article from Absolute Rights. If a catastrophe hits an urban community with little or no warning, the online piece said the level of traffic gridlock that would ensue is nearly unimaginable for those who haven't experienced it.
The article said millions of vehicles would all leave a city at the same time. Cars would crawl at a snail-like pace, and trips that would normally take a few hours are multiplied three or four times. A massive parking lot would replace the normally crowded but speeding cars on the highways and thoroughfares, said the article.
Absolute Rights understands the importance of getting out before this gridlock sets in, and has released a specific survival training program to address this very issue. "Gone Before Gridlock" was designed by Absolute Rights' expert team of survivalists and researchers to guide people through the evacuation preparedness process.
"Gone Before Gridlock" takes disaster preparedness and survival beyond a stockpile of food or a cache of weapons and ammo. Sometimes, the article said waiting out a violent storm, disease epidemic, or outbreak of societal chaos is just not an option. When things get really bad, and there's no hope of surviving "in place," plans and evacuations are key to staying alive, the article said.
Any preparations that have already been made will only be enhanced by the training inside "Gone Before Gridlock," added the article. It isn't an extreme plan that requires advanced skills or equipment. Instead, the program shows people how they can take easy steps towards developing their own early warning systems, and finding the best routes out of their immediate area if something should go wrong, the article said.
All the survival gear in the world can't keep a flood from ruining it or an earthquake from rendering it useless. Starting a fire or building a shelter won't help when someone can't even avoid evacuation problems in their own neighborhood. With vast amounts of people receiving notice and leaving at the same moment, the article said it's only a matter of time before the vehicles stop and panic sets in.
Absolute Rights informs patriotic Americans on their given rights, plus helps protect those rights from government or disaster intrusion. Most importantly, it prides itself on alerting people when their rights are being threatened, creating an active and informed community. For more information, be sure to visit AbsoluteRights.com.
Panic from disaster situations can lead people to do the unthinkable, the article said. The knowledge and plans for evacuations shared by "Gone Before Gridlock" are sure to help anyone with their plans and strategies.