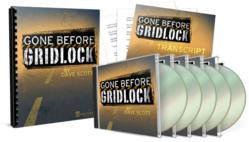 Hurricanes are real threats that can strike major cities, with no concern for the destruction they cause or the lives they change forever.
Austin, TX (PRWEB) September 29, 2012
This year's hurricane season has already produced headline-worthy storms that have hit American coastlines and cities with devastating impact, said a recent online article from AbsoluteRights.com. In late August Hurricane Isaac hit New Orleans, a town all-too familiar with the damage that ensues after the infamous Katrina. The worst of the season may not be over, and the article said it doesn't officially end until November 30, 2012.
To help people plan for a hurricane, flood, or any other emergency situation that may call for an evacuation, Absolute Rights has published the "Gone Before Gridlock" training program. The article said it's single-handedly changing the fortune of those who access its knowledge, because it's too easy to get trapped behind the crowds when people try to leave the path of danger.
"Gone Before Gridlock" is an expertly created system for planning, practicing, and executing a foolproof escape from harm. It will help avoid the stress and panic of a crowd of vehicles stalled from the horrendous traffic blockages that are sure to stretch for miles, said the article.
Hurricanes are real threats that can strike major cities, with no concern for the destruction they cause or the lives they change forever, the article said. Getting out ahead of the storm, and more importantly, the crowds, will ensure safety when it's needed most.
The National Oceanic and Atmospheric Administration and the National Weather Service have this to say about hurricane preparedness:
"History teaches that a lack of hurricane awareness and preparation are common threads among all major hurricane disasters. By knowing your vulnerability and what actions you should take, you can reduce the effects of a hurricane disaster."
At the onset of the 2012 hurricane season, the NOAA also said that the total number of severe storms hitting the US would rise compared to previous years. If occurrences are on the rise, what will it be like ten years from now?
"Hurricane hazards come in many forms, including storm surge, heavy rainfall, inland flooding, high winds, tornadoes, and rip currents," the NOAA said. "The National Weather Service is responsible for protecting life and property through issuance of timely watches and warnings, but it is essential that your family be ready before a storm approaches."
That's why a program like "Gone Before Gridlock" is so vital to the well-being of so many people vulnerable to a hurricane's impact, said the article. It doesn't stop at hurricanes, either. The full impact of any major weather disaster can be avoided by evacuating, said the article. Violent, chaotic breakdowns in civil order can as well. Disease epidemics, terrorist attacks, and any number of other real life threats can be survived with a properly-developed evacuation plan, so the article suggested joining "Gone Before Gridlock" today.