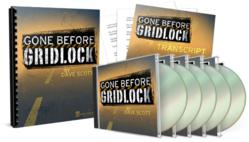 "If an evacuation were to be mandated in your community, could you be out of there in 90 minutes?" asked the article. "Could you do it in less?"
Austin, TX (PRWEB) September 02, 2012
Disaster evacuation plans need to be created well before an emergency has the chance to arrive, because the latest article from AbsoluteRights.com said a multitude of problems will be encountered by the unprepared. The experts at Absolute Rights have personally seen what a mass evacuation can look like, and the article said they'd be the first to say that it isn't pretty.
That's why they decided to devote a huge amount of research and analysis to the best ways to, as they like to say, "Get Out of Dodge." Their newest Special Report and training program "Gone Before Gridlock" helps people design their own personal early warning system and establish the right kind of plans for escaping the dangers of a serious disaster, according to the article.
The article said "Gone Before Gridlock" guides experienced preppers and absolute beginners alike in the complete evacuation process, advising the smartest ways to approach choke points, heavy crowds, and the gigantic, miles long highways-turned-parking lots of vehicles that go nowhere fast.
Survival skills and expensive gear can cause people to have a false sense of security when it comes to their levels of preparedness, said the online article. Instead, learning about possible problems in the planning process is far better than any skill or gear can take you, it claimed. Knowledge, physical skills, and mental toughness are what keep people alive in times of crisis, and that's the kind of perspective "Gone Before Gridlock" advises.
Real life examples of evacuation scenarios happen virtually every day, and for a variety of dangerous reasons, said the article. The most recent stories are still coming out of the Gulf Coast, where Hurricane Isaac continues to have an effect on towns in Louisiana, Mississippi and elsewhere, days after making landfall.
According to USAToday.com, "Officials scrambled on Thursday to evacuate up to 60,000 residents in a rural area as they began a controlled release of water at a dam that threatened to break near the Mississippi-Louisiana border."
If the dam, holding back the swelling waters of the already flooded Tangipahoa River, manages to break, low-lying areas downstream will almost certainly see flood waters of record levels.
"Louisiana Gov. Bobby Jindal called the situation in the Tangipahoa Parish area "the biggest challenge" the state faced Thursday. Search-and-rescue teams were being assembled and two nursing homes were being evacuated," said the article. Most notably, "Residents had less than 90 minutes to evacuate after the order was given, Jindal said at a briefing Thursday."
"If an evacuation were to be mandated in your community, could you be out of there in 90 minutes?" asked the article. "Could you do it in less?"
"Gone Before Gridlock" will ensure that everybody who follows its guidance will understand what it takes to orchestrate a safe evacuation and avoid all of the headaches and backups that prevent them from reaching shelter and protection from harm.
Absolute Rights informs patriotic Americans on their given rights, plus helps protect those rights from government or disaster intrusion. Most importantly, it prides itself on alerting people when their rights are being threatened, creating an active and informed community. For more information, be sure to visit AbsoluteRights.com.
To find the keys to disaster evacuation, the article highly suggested accessing "Gone Before Gridlock" and starting the development of a foolproof plan immediately.