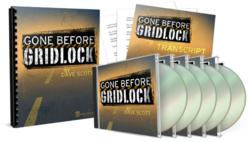 Austin, TX (PRWEB) September 07, 2012
Finding out how to evacuate a disaster just got a lot easier with Absolute Rights' newest training program "Gone Before Gridlock." According to a recent article from AbsoluteRights.com, it's guiding people in the direction of ultimate preparation, because getting out of harm's way is one of the most important survival skills anyone can have, the article said.
"Gone Before Gridlock" is showing folks how to prepare plans that will ensure a safe and stealthy evacuation, away from the crowds of panic and stress that follow major disasters. Whether it's a man-made crisis or a weather-based natural disaster, the article said that "Gone Before Gridlock" will provide more information on escaping danger than any other resource available.
Absolute Rights has devoted themselves to intense research to make sure any program they offer is above what would be expected. The article said that the members-only website is the center of all of the program's content, including valuable bonus features that help avoid choke points and calculate gasoline mileage.
That's why "Gone Before Gridlock" is such a powerful system, said the article. It takes audiences through the step-by-step planning process that can provide them with a foolproof plan and all the knowledge and skills they need.
The article said that population increases across the globe and dwindling resources to support those populations are leading to desperate times. Food supplies are decreasing, leading to spiked prices, which are leading to tense situations the world over; the article made sure to point out how relevant disaster evacuation plans can be.
Hurricane season, civil unrest, and a number of other possibilities could make evacuation a necessity, and the article said those who are not prepared will suffer greatly.
There's reason enough to start establishing a plan, said the article, and only individuals will be responsible for their well-being and that of their loved ones when the moment strikes. If evacuation is mandatory, "Gone Before Gridlock" will advise people on exactly how and when to leave to avoid the major traffic problems that will occur, especially near large urban areas with dense populations.
Absolute Rights informs patriotic Americans on their given rights, plus helps protect those rights from government or disaster intrusion. Most importantly, it prides itself on alerting people when their rights are being threatened, creating an active and informed community. For more information, be sure to visit AbsoluteRights.com.
Without a plan, the online article said the hope for survival drastically decreases. People can learn everything they need to know about how to evacuate a disaster at the right time and with the right procedures through the "Gone Before Gridlock" system, said the article.