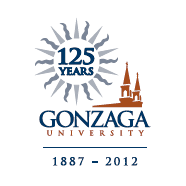 Spokane, Wash. (PRWEB) November 12, 2012
The calendar may say it's winter, but Gonzaga University's Spring term officially begins January 15. Those interested in enrolling in one of the university's convenient online programs are encouraged to apply now in order to begin their studies at that time.
Gonzaga currently offers a Master of Science in Nursing, an RN to MSN, a Master of Arts in Communication and Leadership and a Master of Arts in Organizational Leadership in an online format designed to help busy adults further their education and promote their careers with an advanced degree. Interested individuals can apply online at http://www.gonzagaonline.com or call 866-295-3105 to speak with an Admissions Representative for more information.
The M.A. in Communication and Leadership Studies (COML) and M.A. in Organizational Leadership (ORGL) now include an exciting new course that involves study abroad. The ORGL/COML Special Topics Course, "Leadership and Accompaniment in Slovakia," is offered in partnership with the United Nations High Commissioner for Refugees (UNHCR). Students will work at a refugee camp in Humenne, Slovakia, with UNHCR staff and camp residents, developing a knowledge of and appreciation for different cultures and traditions, as well as a holistic understanding of our global society and the human race—outcomes that align with the Jesuit, Catholic and humanistic mission of the university.
Students in the three-credit course will also attend local universities and visit non-governmental organizations, historical sites and museums in Slovakia. Other activities include an educational visit to the concentration camp in Auschwitz, Poland, and a trip to Budapest, Hungary. The course takes place April 13 to April 28, 2013.
To apply, or for more information about Gonzaga's online programs, go to http://www.gonzagaonline.com or call 866-295-3105.
About Gonzaga University:
Gonzaga University is a humanistic, private Catholic University providing a Jesuit education to more than 7,500 students. Situated along the Spokane River near downtown Spokane, Washington, Gonzaga is routinely recognized among the West's best comprehensive regional universities. Gonzaga offers 75 fields of study, 25 master's degrees, a doctorate in leadership studies, and a Juris Doctor degree through our School of Law. Our online Master's programs include an MA in Organizational Leadership, an MA in Communication and Leadership Studies, an MS in Nursing and an RN to MSN.