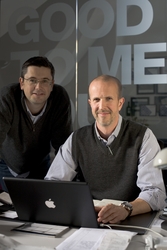 We have proved ourselves consistently to be one of the very best design consultancies in the UK and, with 70% of our business now coming from outside of Scotland, it makes sense to be closer to where are customers are based.
(PRWeb UK) February 17, 2011
Good Creative swept the boards at the Design Business Association's annual Design Effectiveness Awards last night, winning two Gold awards and a Bronze.
The Glasgow-based consultancy outperformed all the other UK design agencies at the awards which use commercial data as a key judging criterion. It is now ranked third in the DBA's league table of the UK's most effective design consultancies and is the first agency to win three consecutive Golds at the event.
Good won Gold awards in the internal communications category, for its work on a Scottish Power safety campaign, and in the packaging category after creating a new brand identity for Argyll-based Fyne Ales.
Good was also recognised in the Interactive and Digital Media category for devising a hugely successful social media marketing campaign for Buchanan Galleries, a shopping complex in the centre of Glasgow. The successes have raised it from 9th to 3rd position in the DBA's design effectiveness league table.
Co-directors Keith Forbes and Chris Lumsden are seeking to capitalise on the company's growing reputation and success with a possible move to London. They are currently considering various options, including a partnership or joint venture operation that will enable them to get a foothold in London.
"We have proved ourselves consistently to be one of the very best design consultancies in the UK and, with 70% of our business now coming from outside of Scotland, it makes sense to be closer to where are customers are based," said Forbes, who founded Good eight years ago with Lumsden.
"While Scotland has been a good platform from which to grow our business, we feel it is important to have a London presence, whether that is a new headquarters or an office where we will employ the best talent."
"We have done tremendously well establishing a company in Glasgow with a global reach but we want to do better. To be perceived as one of the biggest players in the industry, you have to have a presence in London and we are prepared to do that to take our business to the next level."
With an annual turnover of £1.4m, Good specialises in design thinking, brand creation, positioning and strategic implementation, producing everything from logos and brand guidelines, literature, packaging to digital solutions with in-house specialist teams.
Clients include Marks & Spencer, Scottish Power, AEG, CLWorldbarnds, Bacardi, Siemens and Land Securities.
Good was commissioned by Scottish Power to develop a single brand and enduring campaign platform to deliver internal Health and Safety (H&S) messages across the group. The company felt previous campaigns had been inconsistent and poorly executed and that staff had become disengaged from internal communications messages.
Good devised the 'It Matters' campaign, which used tongue-in-cheek copy and light hearted visuals to emphasise the importance of health and safety messages. The campaign proved an immediate success, resulting in a 22% reduction in sickness absence and a 60% reduction in lost time accidents, saving the company more than £2.5m.
Doug Wilson, Scottish Power's Health & Safety Director, said: "The impact of the 'It Matters' campaign on our health and safety initiatives was immediate and resounding. The extent to which we have educated what I know to be a tough audience, is nothing short of remarkable."
Charlie Craig, Director of Fyne Ales has credited Good with helping to transform the company from a cottage industry into a nationally recognised brewery. It was launched in 2001 as a means of utilising redundant dairy farm buildings but its products were losing out to increasingly more sophisticated completion with strong packaging.
Good was asked to halt declining sales in Fyne's on and off trade, to gain new UK listings for its bottled beers, to position Fyne Ales as a player in the speciality beer market and to reduce production costs of existing labels.
Following a redesign of the packaging, which used bold styling and content to ensure simplicity, clarity of communication and clear differentiation from its competition, Fyne experienced a 49% increase in sales, a 20% rise in net profitability and it outperformed the market by 30.6%.
Buchanan Galleries asked Good to devise a social media marketing strategy to attract younger shoppers who, it felt, it was losing to newer, out-of-town shopping centres with larger marketing budgets. It wanted Good to address preconceptions about the centre and to outsmart rather than outspend the competition.
Good redesigned the galleries' website and used a Twitter campaign to reposition the centre as a fashion-based shopping destination. The centre's estimated annual turnover is up by 25% year-on-year with average spend on non-food items among target shoppers up by 58%.
"Embracing the effective use of social media has enhanced the impact of the overall campaign and changed perceptions for the better," said Sam Stewart, Buchanan Galleries' regional marketing manager. "More than that, it's created efficiencies with my overall marketing budget which allow me to maximise my spend elsewhere."
Exchange source,
Notes to Editors:

The DBA was established in 1986 to promote professional excellence through productive partnerships between commerce and the design industry to champion effective design. It runs events, projects and seminars with partner organisations including the Confederation of British Industry (CBI), the Institute of Directors (IoD) and the Marketing society
Its Design Effectiveness Awards are recognised within the industry as the most important measure of effective design. It is the only awards scheme that uses commercial data as a key judging criterion. Each entry is judged on its own merits, by a panel of senior figures from the business community.
Success in the awards brings a much coveted place on the DBA's Effectiveness League Table, collated from the previous three years of data. Consultancies and agencies are awarded 15 points for a Gold award, 10 points for a Silver and 5 points for a Bronze award. A further 10 points is awarded for the Grand Prix, the top prize for overall design effectiveness and 5 points in an international export category.
In 2009 Good won a gold medal in the DBA Design Effectiveness Awards for its work on redesigning packaging for Equal Exchange, a producer and distributor of fair trade and organic products. Following the relaunch, Equal Exchange saw a 28% uplift in like-for-like sales and outperformed the market by 37%. Its exports also grew by 300%.
Good's founding partner, Keith Forbes, is a former creative business managing director of the year, a board member of the Design Business Association and has been quoted on lists of the most influential members of the media and marketing industries in Scotland.
There are 20,000 design agencies in the UK
For further information and high resolution photography, contact: Carlos Alba on 0141 637 6399 or 07880 505647.
Email: carlos(at)carlosalbamedia(dot)co(dot)uk
###