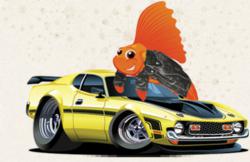 Memphis, TN (PRWEB) September 15, 2012
RoadFish.com men's lifestyle and finance magazine today announced their criticism of the recent Memphis Daily News' recent article, claiming that having a good credit score is meaningless and certainly not a goal to aspire to. RoadFish.com's stance on this article may help consumers due to the fact that credit scores actually do have a very big impact on consumers' finances, and RoadFish.com points out the factual perks of having a decent score.
Ray and Dana Brandon, a husband-wife duo that write for the Memphis Daily Times, recently wrote an article for the paper titled "High Credit Scores Not How you Win." In his opening paragraph, Ray Brandon states, "What's your credit score? I say, "Who cares!" A great credit score simply means you have successfully borrowed and repaid a lot of money. Which in turn means you are great at loading on debt. That's not exactly a goal to aspire to." The article goes on to report that a credit score does not reveal anything about one's financial success.
RoadFish.com agrees that a credit score might not be the best tool for determining whether a consumer is able to live above his or her means, but criticizes the claim that a credit score should be taken lightly. RoadFish.com's Senior staff writer is quoted as saying, "Having good credit extends well beyond simply accruing and paying off debt, which is something that I feel the writers missed in this article. There is more than one way to earn good credit, and I can guarantee that somebody who has racked up a huge amount of debt actually does not have a good score, contrary to what the Brandons have written. Part of how a score is determined is by the credit bureaus looking at how much credit is allowed to a consumer, and how much of that credit they've actually used. If the gap is wide, the banks are happy. If the gap is small, they are not. And people can get good credit by paying their utilities on time, paying their rent on time, and even through using a secured card."
In the above-mentioned article, Ray Brandon states that having a good credit score can actually backfire on consumers as it can lead them to make bad decisions, such as buying a home that's out of their price range simply because they can get a huge loan based on their score. He advises consumers to not worry about their score, stating, "After all, it's the person who is $100,000 in debt (but making regular, on-time payments) that has the great score. Is that really who you want to be? I hope not."
RoadFish.com points out that just because a consumer's high credit score will allow them to take out a larger-than-average loan does not mean that every consumer will be game. RoadFish.com's Senior staff writer is quoted as saying, "It's pretty ridiculous to think that just because somebody has a good credit score that will earn them the ability to take out more than they need in a loan, means that they automatically will. That's a matter of proper budgeting, common sense, and sheer intelligence, which I will admit that not all of us have, but not all of us lack either. And as for advising consumers to stop working on their score, there was a time when I didn't care about having a decent credit score, mostly because I didn't know any better back then. Well, that time came back to bite me in the ass! I think it is irresponsible of journalists to advise readers to forget about their credit score, and stop aspiring to have a good number. It is a fact that good scores result in lower interest rates, which means less money being spent on the part of the consumer."
The article does advise readers to focus their attention on savings and investments, and to look away from borrowing money. Ray Brandon, the co-author, is the CEO of Brandon Financial Planning and Dana Brandon has a BA in finance.
About RoadFish.com
RoadFish.com lifestyle and finance magazine is an online men's magazine that commonly features articles on travel, lifestyle, and dating advice for men. RoadFish.com readers tend to be guys in their 30's and 40's, most of who have already set and achieved high personal goals for themselves, and are heading steadily towards a new goal. RoadFish.com men's lifestyle and finance magazine features stories on men's luxury items, vacation ideas, hot chicks, and information on mortgages and short sales. RoadFish.com is owned and operated by Purpose Inc.