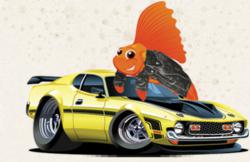 Los Angeles, CA (PRWEB) September 28, 2012
RoadFish.com, the Internet's cutting-edge lifestyle magazine for men, covers lifestyle topics ranging from tips for dating women to fashion and finances. Launched in 2003, the magazine has built a reputation for well-written, brief yet detailed articles on lifestyle issues that matter to men. Leaving no subject to question, the online magazine published an article with five reasons to stay mentally and spiritually healthy. "The mind is a powerful mother, and it and your body are controlled by you!" stated the Senior Staff Writer of RoadFish in the article.
The 5 Reasons You Should Stay Mentally & Spiritually Healthy, as outlined by RoadFish in the article, offer men the understanding on how mental and spiritual health affect the daily routine and overall well being of their lives. The RoadFish.com article on mental and spiritual health is a brief commentary that mixes humor and real life examples with five reasons for spiritual and mental heath that makes sense.
Being spiritually and mentally healthy offers many benefits. The first reason the article covers states that, "If you don't take care of your mind and spirit, then things can get worse." The article goes on to further discuss that without taking care of mental and spiritual health, often times drugs and alcohol become a solution—a solution that can have troublesome consequences. By staying mentally and spiritually healthy, the chances of using alcohol to respond to hardship become less of an issue. The article's fourth reason to be spiritually healthy related to overall physical health. "The whole mind body connection is nothing weird, it is just your brain and nerves," says RoadFish.com in the article.
To read more of RoadFish.com's health and wellness articles or other lifestyle related articles, such as how to get a free credit report score, go to roadfish.com
About RoadFish.com
RoadFish.com lifestyle and finance magazine is an online men's magazine that commonly features articles on travel, lifestyle, and dating advice for men. RoadFish.com readers tend to be guys in their 30's and 40's, most of who have already set and achieved high personal goals for themselves, and are heading steadily towards a new goal. RoadFish.com men's lifestyle and finance magazine features stories on men's luxury items, vacation ideas, personal grooming, beautiful women, and information on managing budget and personal finances.