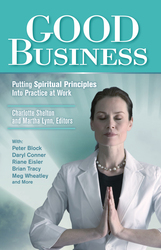 In short, good business is principled business—business that recognizes there are foundational principles in life that cannot be violated without great consequence."
Unity Village, MO (PRWEB) June 8, 2010
In these turbulent times of corporate misdeeds, some might say "good business" is an oxymoron. But that is far from true, say the editors of a new book that describes the success of organizations that have applied ethical and spiritual principles in the workplace. "Good Business," edited by Charlotte Shelton, Ed.D., and Martha Lynn, Ph.D, is a compilation of essays on the value and significance of spirituality in today's workplaces.
Among the book's 20 contributors are well-known author and trainer Brian Tracy, social scientist and humanitarian Riane Eisler, workplace and community consultant Peter Block, organizational change expert Daryl Conner, and visionary Margaret Wheatley. Shelton and Lynn also contributed essays to the collection.
The book, released this month by Unity House, grew from the online radio show "Good Business," hosted by Shelton and Lynn at http://www.unity.fm. "It seemed natural to tap the knowledge of our first-year radio-show guests for a book," Lynn said. "What they have to say, and the good business practices they're modeling, are relevant and so important right now, not only for the well-being of individuals but also for the survival of the planet."
The radio show is broadcasted from Unity School of Christianity, a non-profit organization dedicated to empowering individuals through the application of positive spiritual principles in daily life. Now in its second year, the show features interviews with workplace experts ranging from entrepreneurs and executives to consultants and academicians.
Shelton and Lynn do more than talk about business. Shelton is the president and CEO of Unity School of Christianity. The organization employs nearly 400 workers on a 1,400-acre campus located in Unity Village, Mo., about 15 miles southeast of Kansas City. A former business consultant and division chair at Rockhurst University's Helzberg School of Management, Shelton was heralded in 2005 for a ground-breaking study on Generation X in the workplace.
Lynn is the vice president of Unity's events and hospitality unit, and has an extensive background in organizational development and innovative leadership practices. About 15,000 people visit the Unity Village campus each year. Lynn's responsibilities include management of a world-class, LEED-certified "green" hotel and conference center and program development for retreats, workshops and life coaching services.
Shelton said the idea of applying spiritual principles to business practices is deeply rooted in the Unity movement. In the late 19th century, Unity co-founders Charles and Myrtle Fillmore launched a magazine business to convey their spiritual insights. Their flagship magazine, "Daily Word," now in its 85th year, remains one of the most widely circulated devotional publications in the United States. Throughout their long careers, the Fillmores modeled the behaviors they prescribed, providing opportunities for their employees to grow spiritually.
"People may not know that the Fillmores founded a magazine in the 1920s called 'The Christian Business Man,' which they later renamed 'Good Business,' " Shelton said. "The last section of our book includes two articles that appeared in the magazine during the Great Depression. One is called 'Blessings in Disguise' and the other is 'Any Job You Want.' I suspect readers will find them interesting and just as relevant today."
Shelton and Lynn are available for interviews on the book and for expert commentary on leadership, organizational development, spirituality in the workplace and business ethics.
"Good Business: Putting Spiritual Principles Into Practice at Work," is 263 pages in soft cover with a cover price of $17.95. The book is available through the Unity House, (http://www.unityhouse.org), at Amazon.com, and through distributors DeVorss, New Leaf and Ingram.
About the Editors
Charlotte Shelton is president and CEO of Unity. She has owned her own international consulting business and served as chair of the Management, Marketing and M.I.S. division at Rockhurst University. Her other books are "Quantum Leaps: 7 Skills for Workplace ReCreation" and "The NeXt Revolution: What Gen X Women Want at Work and How Their Boomer Bosses Can Help Them Get it."
Martha Lynn is vice president of SpiritPath® at Unity Village. A former organizational development consultant and business coach, she has more than 25 years of experience and holds a Ph.D. in counseling psychology, with a focus on leadership, personal accountability, and innovative employee and management practices.
About Unity
Unity helps people of all faiths apply positive spiritual principles in their daily lives. The organization touches millions of people each year through books, a non-denominational prayer ministry called Silent Unity, publications such as Daily Word and Unity Magazine, an online radio network, and spiritual education classes and retreats. Unity Village, the world headquarters of Unity, is located at M-350 Highway and Colbern Road (1901 NW Blue Parkway), near Lee's Summit, Mo.
Unity House®, the multimedia publishing arm of Unity, has published spiritual books and magazines since 1903.
# # #