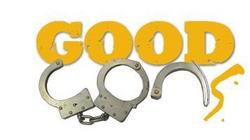 Come on in to GoodCons.com, where the GOOD BADGUYS hang!
Centerport, New York (PRWEB) October 25, 2009
Today, GoodCons, LLC., a closely-held limited liability company located in Long Island, NY, announced that it has launched its new website, GoodCons.com, designed to provide information, support and "attitude" to the families and friends of what they have termed GOODCONS, those in prison who were falsely convicted or whose punishment far exceeds the severity of the crime they did commit. More than two million people are presently incarcerated in the United States, more than in any other country in the world. The Innocence Clinic at the University of Michigan recently estimated that more than 85,000 of them are innocent. Moreover, the number of men and women serving excessive sentences for low-level or victimless crimes is immeasurable.
Joe Con, an ex-con himself, who runs the website said, "Yes, everyone is right to feel sorry for the victims of crimes, especially violent crimes, but those that are thrown in jail wrongly or for unjust lengths of time also deserve support. And since 600,000 inmates complete their sentences and are released each year, whatever we can do to maintain and strengthen the social ties between inmates and their families and friends while they are imprisoned increases their chances of resuming productive and law-abiding lives when they return home."
Joe writes a blog (CONversations) that provides valuable information to help people work through what he calls "this prison thing". Inmate locators enable users to find out which prison holds their GOODCON. Also, an Inmate Commissary sells a line of inmate greeting cards (CONCARDS) designed specifically for GOODCONS, their families and friends as well as some great inmate clothes (CONWEAR) with his trademark "broken handcuff" logo that Joe thinks everybody will love to show in support of their guys and gals still "in the joint".
The website is interactive and invites visitors to submit ideas and information as well as gain knowledge about this important social problem of our time. So, as Joe Con says it, "Come on in to GoodCons.com, where the GOOD BADGUYS hang!"
# # #