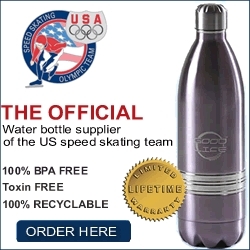 GoodLifeBottles.com is honored to be the official water bottle supplier of the US Speed Skating Team
Boulder, CO (PRWEB) February 18, 2010
Paulson Management Group, Inc. is proud to announce they have integrated another affiliate video for one of their affiliate management clients in the Commission Junction affiliate network. A new affiliate video is now available for affiliates who are accepted into the GoodLifeBottles.com affiliate program in Cj.com to assist them in their marketing efforts for GoodLifeBottles.com products. The new GoodLifeBottles.com affiliate video, integrated into Commission Junction and capable of tracking affiliate commissions, highlights the high quality craftsmanship of the popular Good Life Bottles products, and how it's an eco-friendly alternative to plastic water bottles.
All bottles sold by GoodLifeBottles.com are 100% BPA-free, non-leaching, and toxin-free, and crafted of high-quality food grade 18/304 stainless steel. Good Life Bottles are also unique in that they feature dual walls with a vacuum-seal cap that keeps liquid hot or cold for up to 24 hours. GoodLifeBottles.com bottles took the 2009 Users' Choice Award from http://www.waterbottlesreviewed.com. As well, GoodLifeBottles.com is honored to be the official water bottle supplier of the US Speed Skating Team.
Paulson Management Group, Inc is excited to add the new technically integrated GoodLifeBottles.com affiliate video to their growing list of affiliate videos produced and set up with affiliate tracking for PMG affiliate managed clients. The affiliate videos produced by PMG or by the clients are integrated into the clients affiliate network so that affiliates have a rich media lineup to support their marketing efforts.
"Video is a popular marketing tool especially when it goes viral," said Heather Paulson, President of Paulson Management Group. "When a client has a rich array of affiliate marketing professionals working with them within their affiliate program, it is important that video is available for affiliates to assist them in their marketing efforts. The video technology we use can assist in growing the online sales for merchants who have an affiliate program."
Paulson Management Group, Inc. has integrated many affiliate videos for their clients' affiliate programs, as well as for use within the social media channels where their clients are interested in growing their brand presence. In addition, Paulson Management Group, Inc. is currently producing a new biweekly series of fun, informative video episodes all about the affiliate marketing industry. PMG-AffiliateTV, features news segments, highlights featured affiliates and affiliate programs, and offers a fun take on what's new in affiliate marketing. Episode 3 of PMG-Affiliate TV will be up soon.
Affiliates interested in hosting an affiliate video can find out more about the videos and the programs hosting the videos on the paulsonmanagementgroup.com website. Merchants interested in having an affiliate program professionally managed by a group of affiliate management professionals should contact PaulsonManagementGroup.com at 1-800-384-7760.
About PaulsonManagementGroup.com
Paulson Management Group, Inc. is a full service multi-channel, e-marketing management and consulting agency. Paulson Management Group, Inc. is able to provide affiliate program management, paid search engine management, social media management and SEO management. Interested parties should call 800-384-7760 for more information on services offered by Paulson Management Group, Inc.
###