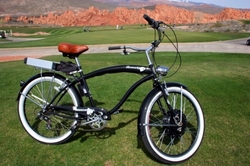 No other form of transportation offers the convenience and freedom that an electric bike does.
Lambertville, NJ (PRWEB) May 26, 2010
National Bike to Work Day brought much needed coverage to the idea of using bicycles as an alternate form of transportation. E-bikes in particular got a boost from GMA's Sam Champion who says "E-bikes are not cheating because we're talking about using a bike for more than exercise..." During the broadcast of Good Morning America, headlined by the Jonas Brothers, Jason Kraft of E-BikeKit™ continued to press the relevance of the electric bike to the American commuter by reminding them of the 0 carbon emissions and the cost savings of about $1400 a year.
See Good Morning America's coverage here.
The complete E-BikeKit system includes a wheel with a high quality hub motor, a battery and all the necessary components to convert your bike to electric. The system is engineered to comply with federal guidelines so it requires no insurance or licensing in most states. The price of entry is also getting lower; full systems start at just $598 making them accessible to most of the American work force.
No other form of transportation offers the convenience and freedom that an electric bike does. Typically a car commuter needs to make car payments, buy gas, insurance, oil changes and parking. For all of that expense they are rewarded with traffic jams and congestion. All of that disappears when you ride an e-bike. The cost of ownership is just pennies a day and parking is never an issue. The electric motor makes pedaling easier giving more people the ability to enjoy the health benefits of biking to work and that's just part of it. In 2009 50% of household trips were less than 3 miles in length (2009 National Household Travel Survey, Bureau of Labor and Statistics); the e-bike rider can make short work of those local trips and soak in some sun while they're at it.
Established in 2008 the E-BikeKit™ company provides a high quality electric bike conversion system that will make bicycle commuting a real possibility for many people. Collaborating with experts in the fields of cycling, engineering, electronics and EV Battery solutions the E-BikeKit™ company has molded a finished product of the highest quality. The E-BikeKit™ is proving to be the best alternative to expensive electric bikes currently being unveiled in the United States. E-BikeKit's goal is to bring the electric bike to the mainstream empowering people of all ages and physical abilities to go green and commute clean.
# # #