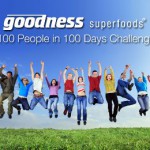 Melbourne, Australia (PRWEB) June 29, 2011
There are only a few more weeks to go in our 100 People in 100 Days Challenge!
It has been a fantastic challenge and most participants have been very enthusiastic and motivated.
"We don't have results from all participants yet, but we have identified many individuals who already have come a long way since starting the 100 People in 100 Days Challenge back on April 1st." says Kara, Community Manager.
Most noticed how they felt fuller for longer but also noticed that they felt overall better. In many cases more energetic and "healthier."
As a result of feeling fuller for longer, most participants dropped a few kilos without doing absolutely anything except change their breakfast to Goodness Superfoods.
An additional benefit that has come out of the Challenge is that a little Barley Max goes a long way. One mum commented that she's actually saving money because she can spend less on snacks for her children….because Barley Max fills them up for longer.
As a result, many also started to be creative with the Goodness Superfoods products and started cooking and baking with it. "We will provide some yummy recipes shortly to ensure you can enjoy some Goodness Superfoods in your diet from morning till evening as well." says Kara.
Some participants have lost up to 12kg, but most reported a weight loss in the 3- 5kg area.
For those who suffer from IBS, the cereal made also quite a difference to many. Less pain and bloated bellies were reported and the fact that most of them were "regular" again.
Many challenge participants also used the Goodness Superfoods cereals to control their blood sugar levels and one participant has reported a blood sugar level reduction from 10.4 down to 6, nearly 40%!
Cholesterol was another issue that was mentioned by many participants. Some even reported a reduction in their medication because the Goodness Superfoods products had such a positive effect on the cholesterol levels!
"I feel really good when I read all these success stories and there are still a few more to come over the next two weeks. I'll keep you posted!" says Kara.
The best part of this challenge so far however has been reading how enthusiastic the participants are about the products and that they happily recommended Goodness Superfoods cereals to friends and family. That is the greatest compliment Goodness Superfoods could have asked for and will be rewarding those very soon with a special initiative!
# # #