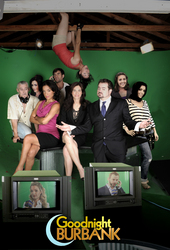 "It's an amazing cast coupled with great scripts" - Dominic Monaghan
Los Angeles, CA (PRWEB) April 27, 2011
Evil Global Corporation today announced the premiere of its flagship, award-winning series Goodnight Burbank as the first-ever scripted half-hour comedy to debut on the Web (http://www.goodnightburbank.com).
"Goodnight Burbank has received tremendous response over the last five years withviews numbering in the multi-millions and a fan base constantly demanding to see more. We're answering that call with a longer format, new top-tier talent and the extended length which allows us to explore the characters in a more in-depth and satisfying way," says Hayden Black, CEO of Evil Global Corp and the creator/writer/Executive Producer of Goodnight Burbank.
The new half-hour series makes its debut the week of April 25th 2011 on the ad-supported, free Hulu.com and the Hulu Plus subscription service. Co-Star Laura Silverman says, "Goodnight Burbank is smart and funny, and shows that you can take quality content (in a short, five minute format) and turn it into traditional long form that we are sure everyone will love and enjoy."
The series features Laura Silverman (The Sarah Silverman Program) as co-anchor and Dominic Monaghan (Lost) as a field reporter. Included amongst the rest of the cast are Miracle Laurie (Dollhouse), Clare Kramer (Buffy), Adrienne Wilkinson (Xena), Juliet Landau (Buffy), Parvesh Cheena (Outsourced), Jim Rash (Community), Deanna Russo (Gossip Girl), Stacey Scowley (Family Guy), Fran Kranz (Dollhouse) and John Barrowman (Dr. Who/Torchwood). Dominic Monaghan says, "It's an amazing cast coupled with great scripts. Goodnight Burbank wouldn't look out of place on TV."
Goodnight Burbank takes a look at the men and women who bring us our nightly news during an actual real-time newscast. Cleverly combining real news and a cinema-verite styled look at what the anchors then talk about once they're "off-mic", Goodnight Burbank is a smart and irreverent comedy about politics and people.
Debuting in 2006, the series has won a slew of online programming awards, and, in 2009, spin-off Goodnight Burbank Hollywood Report became web video site Babelgum's first original comedy commission.
###