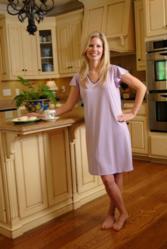 "Bottom line-we slept better."
from Chicago Tribune reporter, Seka Palikuca.
Highland Park, IL (PRWEB) January 18, 2012
Goodnighties Recovery Sleepwear, designed with a patented ionized fabric that encourages restful sleep as it neutralizes the stress our bodies produce. This new unique sleepwear also controls body temperature elevations with moisture-wicking technology and is anti-microbial to resist odor. The sleepwear is made 100% in the USA.
This is a brand for sleepless Americans who find in tough economic times, the proverbial 'Bucket List' doesn't exactly mean great trips are on the horizon. Many Americans find 'progress' in achieving even one great item on a 'Bucket List' to be quite an accomplishment to then be quickly traded for chronic exhaustion and survival mode in everyday life. Being stagnant with a lost spirit and unattainable dreams only increases stress which leads to insomnia. Sleeplessness has become a hidden epidemic that has greatly contributed to 'lost productivity' in the workplace. A study administered and published in September 2011 by researchers from Harvard Medical School and the University of Michigan determined 23 percent of workers surveyed, from a sampling of 10,000 adults, suffered regularly from stress-induced insomnia. It was also determined from these findings, many show up for work but are not as productive as their rested peers and make mistakes on the job or cause accidents. This study was conducted for a large nationwide health plan.
In our workplace today this anguish has further eroded an already weak economy costing $63 billion annually in 'lost productivity' according to a study from the journal, 'Sleep'. When this problem is reduced to its' lowest form a primal instinct should kick in and those with common sense seek a fundamental need to unplug from the chaos of life and attempt to get a good night's sleep.
Unfortunately, what usually first comes to mind is to follow sleeplessly, like a flock of sheep, to begin with a quick pill regimen as a solution. Many would be surprised to learn that a breakthrough to promote better sleep can now be found in high-tech pajamas called Goodnighties Recovery Sleepwear, developed with a smart-fabric that encourages restful sleep as it neutralizes the stress our bodies produce. This patented technology known as IonX (ionized fabric) can be found in not only high-performance athletic apparel, but now in comfortable pajamas and gowns for women. A men's line is coming soon. This unique fabric 100% Made in the USA also moisture-wicks to control elevations in body temperature sometimes brought on by menopausal night sweats or illness and it's anti-microbial as well. These are attributes never before found in a sleepwear garment.
One busy reviewer, Chicago Tribune reporter, Seka Palikuca succinctly stated: "If you're a skeptic, as many of us are, you might be wondering how fabric can possibly help you sleep better. Well, we put it to the test and found the fabric ultra-soothing and ultimately relaxing. There was also no waking up in the middle of the night to throw off the covers. Bottom line-we slept better."
This new solution is especially timely since ABC News Anchor, Diane Sawyer's recent alarming announcement that "6 in 10 women regularly suffer from insomnia" and as a result "3 in 10 are taking prescription sleep medication."
Technology today plays an enormous role in everyday life and now is the time to use newly developed fabric technology to recharge your spirit.
###